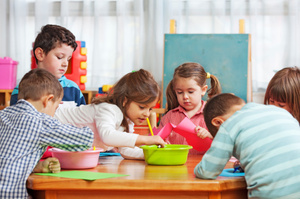 Parents have voiced frustration after being charged childcare fees on Labour Day, despite their kids' preschool centres being closed. With Christmas holidays approaching parents are set to be stung again, creating further tensions.
As Lydia Anderson reports, it pays to read the fine print when choosing a preschool.
FINE PRINT:
Check your contract with your preschool centre for extra charges, such as for off-site excursions and public holiday fees.CHILDCARE fees can set working parents back a small fortune, so nasty surprises about a centre's fee structure are about as welcome as a bad flu.
Public holidays such as Queen's Birthday or Labour Day are a welcome break for many workers, and a chance to spend time with their kids who might normally be attending preschool.
But some parents are upset at being charged childcare fees on public holidays when their centre was actually closed.
West Auckland mother Amber Longdill said it was annoying to pay about $60 in fees for Labour Day to Kindercare Early Learning Centre for her daughter, Isabella, 2, when the centre was shut.
She said it was hard on people who weren't working and were on tight budgets, as well as those who had to work on public holidays.
"Not only do they have to pay for a daycare their child can't attend, they have to pay someone else on top of that to have their child for the day."
Other parents have taken to parenting groups on Facebook and online forums to vent their frustration.
CHILDCARE: WHAT YOU PAY FOR
When choosing a centre, parents should make a checklist of what they want for their child, and go with the centre that best meets their needs, the Early Childhood Council says.
Chief executive Peter Reynolds says costs range hugely, from free if you are eligible for the Government's "20 hours free" scheme, to several hundred dollars a week for full-time care.
It all depends on what the centre provides and what their "core philosophy" is.
Up to 60 per cent of a centre's operating costs are teacher salaries, so the more qualified teachers they employ the higher the fees, Reynolds says.
Also, centres with an on-site chef - or a nature-based philosophy that involves many off-site excursions - will have added costs.
"Take the opportunity to shop around and make a value judgment," he says.
PAYING FOR PUBLIC HOLIDAYS:
For families concerned about being charged over the Christmas break, it's a good idea to read the enrolment contract.
Reynolds says being charged for public holidays happens across the board; as employers, childcare centres all have to pay staff.
Many centres build the charge implicitly into their fee structure, so parents don't notice any extra fee on holidays.
However the issue crops up from time to time as some centres list it as a separate fee, which leads parents to complain.
"For some parents, that can rile them a bit ... and I can understand that," says Reynolds.
"If you're uncomfortable with that being an explicit part of the fee that you pay, then look around for a centre that doesn't appear to be charging - but trust me, they all do," he says.
Consumer New Zealand adviser Maggie Edwards agrees with Reynolds, and urges parents to always read their contract so they know what to expect in terms of fees.
It's also worth noting that most centres sting parents when their kids are sick or unable to attend on their scheduled days - though some charge discounted "holding fees" in these instances.
WILL I BE CHARGED FOR CHRISTMAS HOLIDAYS?
Reynolds says parents will need to pay fees for Christmas statutory holidays, however most centres don't charge full fees on non-statutory days if parents withdraw their children, say, to go on a holiday.
A small holding fee may be required by some centres for the days absent.
If a parent is really unhappy with their centre's fee structure, or if public holiday fees seem unreasonable, discuss it with the centre manager and ask what the fees are paying for.
But Reynolds empasises that it can be very disruptive for a child to change centres, so parents should consider that as a last resort after exhausting other avenues.