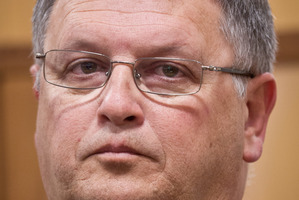 One of the victims of a convicted paedophile has erupted angrily in the public gallery after his former primary school principal's lawyer claimed his client would be "tormented" for the rest of his life.
Bruce Allan Darroch, 51, was sentenced today in the Rotorua District Court to two and a half years prison for charges relating to sexual exploitation of children.
Darroch was earlier found guilty of four charges, including making an objectionable publication and possessing objectionable material.
He was also convicted of two counts of failing to assist in a search warrant after refusing to give police passwords to encrypted devices found in his home and car.
The former principal of a South Waikato primary school showed little emotion during the sentencing, staring straight forward during the proceeding.
During investigations 477 photo files were found on a disk containing naked children, with some photos showing the children engaged in explicit sexual acts.
A 104-minute online conversation from 2012 was also uncovered which showed Darroch had sent photos of past and present pupils from his school to another chatroom member, then proceeded to speak explicitly about them, detailing his sexual fantasies.
While the photos alone Darroch sent were not objectionable, Judge Tony Snell made it clear that combined with the conversation's content, they became objectionable.
A victim and his mother read their victim impact statements to the court, explaining the extent of the emotional harm Darroch's offending had caused.
"You immersed yourself with our children, all the while knowing you are a paedophile, to describe in words the enormity of your impact is so hard.
"You preyed on my son, you exploited my son - everything you did was premeditated. I was sending my son to school thinking he was safe but instead I was sending him into the arms of a paedophile.
"One of my jobs as a mother is to keep my son safe and in that I have failed. He has received a life sentence of pain while you have no remorse for your offending. My belief is you will never change."
Darroch's lawyer, Russell Fairbrother, there was "more good to this man than the court has heard", and his fall from grace had been considerable.
"[Darroch] has found this emotionally very difficult and has been taking medication to deal with the stress and strain. He does not take this matter lightly and has all the signs of someone who will rehabilitate himself.
"He lives with torment every day and will for the rest of his life."
At this point one of the victims jumped from his seat, yelling for Darroch to "look me in the eyes".
"You're tormented? You f****** live with it? Look me in the eyes Bruce, you know what you've done," he yelled, before being escorted out of the public gallery.
Another woman was also escorted out after yelling "lies, lies, lies" during Mr Fairbrother's submission.
Judge Snell said there was concern Darroch had little insight into his offending, minimising it.
"There is no doubt your offending has had a profound and ongoing effect on your victims. While you have acknowledged the conversation was inappropriate and took you to 'dark places', there is concern of your minimisation of the offending and that you have fought this case at every step," he told Darroch.
"You were a respected principal for 19 years and used your power to exploit those pupils who trusted you. The effect on those victims you sent photos of will be ongoing for as long as those images are available on the internet."
Speaking to the Rotorua Daily Post after sentencing, one of the victims said he was unhappy with the outcome.
He said his life had been ruined by a man he trusted and Darroch deserved "much more than what he got".
"He betrayed my mum's trust and ruined my idea of school. He's changed my perception of life and so no, I don't think his sentence was enough.
"Being able to read my victim impact statement to him did give me a bit of empowerment - being able to let him know what he's done to me, but at the same time, it didn't."
Outside the courthouse, that victim's mother said Darroch's impact on her son had been "phenomenal".
"Everyday I wake up and feel sick thinking about what is on the internet about him and what he has had to go through.
"I'm glad he [Darroch] was given a prison sentence, that's better than home detention and I just want to say how proud I am my son faced his abuser today."
For more articles from this region, go to Rotorua Daily Post