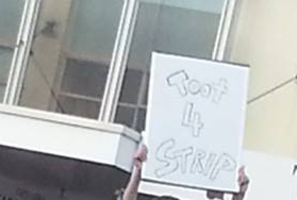 Auckland private school St Cuthbert's College is taking an incident of a student stripping in central Rotorua "very seriously" and has stood down the contracted male coach who was with the girls.
The girl, described as being aged 14 or 15, stripped down to her underwear on Fenton St about 4.30pm yesterday. It is understood the student was doing it as part of a "sports initiation" for her senior school football team.
St Cuthbert's College principal Lynda Reid said this morning the school was taking the incident "very seriously" and would be "conducting a thorough investigation".
"The coach who was with the students was not an employee of our school but a professional working on a paid external contract.
The coach has been stood down while the investigation is conducted."
Ms Reid said the football team was sent home from Rotorua when the school was alerted to the behaviour.
"As a school we are viewing this incident very seriously and I apologise to the people who were upset by the student's behaviour however, we must remember this was the behaviour of a young student who did not consider the consequences of her actions."
Ms Reid said St Cuthbert's had been sending students to Rotorua on school trips and for sports tournaments "for decades" and this was the "first time something like this has happened".
Rotorua Bike Barn worker Kyle Mansell said he and his co-workers saw the event unfold yesterday.
"This girl can't have been more than 14 or 15-years-old and she was holding a sign which said 'toot for strip'.
"For every toot, she took more clothing off until she was down to the tiniest bra you've ever seen and fishnet stockings."
Mr Mansell said a crowd gathered and she was out on the street for about 15 minutes.
"All the other team members were there egging her on and they had their school van with their logo splashed across the side.
"There was [an adult] with them too who was grinning and thought the whole thing was hilarious."
Mr Mansell said the student got "a lot of toots from men having a good look".
Meanwhile, another member of the public told the Rotorua Daily Post this morning they saw a student tied to a post on Eruera St.
Next trending article: Another snub! NZ left off Rugby map of the world
For more articles from this region, go to Rotorua Daily Post