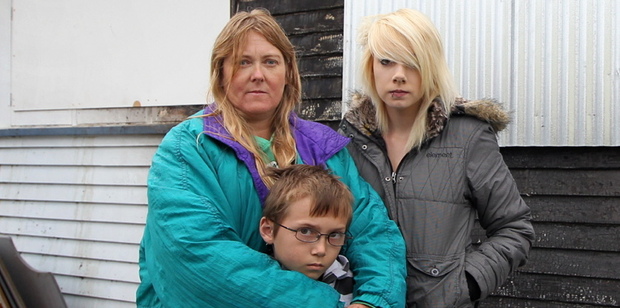 A 12-year-old autistic boy has had his electronics and birthday presents stolen by burglars.
The burglary has distressed Joshua McCutcheon, who had a "meltdown" when he was told his electronics were stolen.
Joshua loves technology and needs a laptop to write because his handwriting is illegible.
For Joshua's mother, Kerry McCutcheon, life on her street has been marred by bad luck.
The first time the solo mother was burgled, thieves broke into the gutted remains of her Fleming Cres, Maraenui, house after it was destroyed in a fire three years ago.
Ms McCutcheon lost "nearly everything" in the blaze, which began outside the house and wasn't believed to be suspicious.
"There wasn't much that wasn't smoke-damaged, water-damaged or completely burned."
The thieves took what they could.
Despite her ordeal, Ms McCutcheon continues to live on Fleming Cres, just one door down from the now empty property where the fire had destroyed her house.
Just as their lives were returning to normal, burglars targeted Ms McCutcheon and her two children again.
She estimates $6000 worth of belongings were taken from her house last week.
Joshua was distraught after his iPad, laptop and computer hard drive were stolen.
"I told my son why the police were here. He's autistic and he had a [meltdown].
"The last meltdown like that was a long time ago," she said.
Joshua is on medication for his autism.
Ms McCutcheon also lost her camera and her laptop, which had personal photos and documents stored on it.
"My life was on that laptop and not all of it was backed up."
Her 20-year-old daughter, Leilana, lost her new laptop, a tablet, PS3 console and PSP.
Joshua, who will be 13 in two weeks, had all his presents stolen after the burglars found them hidden in his sister's wardrobe.
Ms McCutcheon said the burglary had taken an emotional toll on her and her family.
"I feel really sick and violated for what's happened.
"I did not sleep on Friday night or Saturday night. I had this constant sick feeling in my stomach - I came very close to throwing up.
"I had a prickly sensation over my head and down the back of my spine."
Ms McCutcheon said she would continue living on Fleming Cres and take things "day by day".
The burglary is believed to have happened between 8.15am and 2pm last Friday.
Ms McCutcheon was running errands at the time, her daughter was at work and her son at school.
The burglars entered the house through a kitchen window which had accidentally been left open.
Senior Sergeant Ross Smith said police were investigating the burglary.
For more articles from this region, go to Hawkes Bay Today