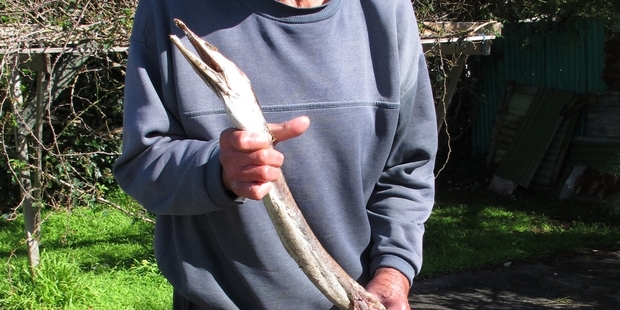 Roy May has found many curious things on the beach - but he's never seen anything like the creature that washed up in last week's storm.
The 84-year-old Waitangi resident found the 2.4m-long (8 foot) snake-like creature at the intersection of Puketona Rd and Te Kemara Ave on Thursday. He suspects it had been found on the beach, among the storm debris, then left on the road. It had been run over, and was "a bit whiffy".
Mr May said the creature had a long, slender body and long jaws lined with sharp teeth. Children were playing with it so he took it home and popped it into a chilly bin. "I thought it might be a talking point. I think it's a sea snake swept in from the tropics," he said.
He was planning to show it to local kids, then bury it in his garden.
It turns out the mystery creature is not a snake but a type of fish, the fittingly named snake eel or serpent eel (scientific name Ophisurus serpens.)
According to Malcolm Francis' Coastal Fishes of New Zealand, the snake eel grows to 2.5m and lives in sandy or muddy bottoms to 300m deep. It uses its bony tail to dig a hole in the sand and catches it prey.
For more articles from this region, go to Northern Advocate