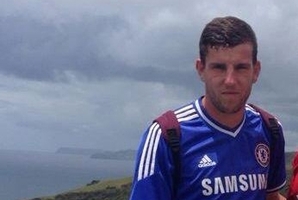 A Golden Gloves amateur boxing title holder convicted of assault after breaking a 22-year-old man's jaw at a local nightclub, says he acted in self-defence
Lee Garnham, 24, pictured, who pleaded guilty to an assault charge in Tauranga District Court on Wednesday, told the Bay of Plenty Times he had not instigated the violence and was protecting himself after two men came towards him in "an aggressive manner" at Bahama Hut nightclub on November 29 last year.
"I got hit first, and I was punched in the mouth and got a badly split fat lip ... Unfortunately, the result [of his returning the blow] was double the impact because they were travelling towards me."
In June last year Garnham won gold at the North Island Golden Gloves contest in Taupo, winning the light heavyweight boxing title. He also had 28 amateur bouts in England.
About 12.30am on November 29 Garnham and his friends were drinking at the Harington St nightclub when an associate went over to speak to the victim about an earlier incident.
Police say Garnham then went over and punched the victim and his friend, throwing quick successive punches, striking the main victim in the side of the face, breaking his jaw and a wisdom tooth, which needed surgery.
Garnham insisted he did not mean to cause the injuries.
"It was not intentional, and I literally was defending myself. "
Garnham said he considered laying an assault charge himself but was told by police his chances of success were slim because he could not clearly identify who hit him.
His guilty plea came after police reduced the charge from the far more serious charge of assault with intent to injure which he originally intended defending.
A conviction for the more serious charge would have affected his travel plans, he said.
Garnham, who has no prior convictions, is due to return to England in the next few weeks, the court was told. Judge Stephanie Edwards told Garnham there was no doubt alcohol played a part in his actions, but she accepted he was remorseful.
He was fined and ordered to pay compensation to the victim.
While in New Zealand Garnham has also been playing football for the AFC Fury Club.
Garnham said he would think fondly of his time in New Zealand and wanted to put this "unfortunate incident" behind him.
Garnham was ordered to pay
*$300 emotional harm payment to the victim
*$250 fine
*$130 court costs
For more articles from this region, go to Bay of Plenty Times