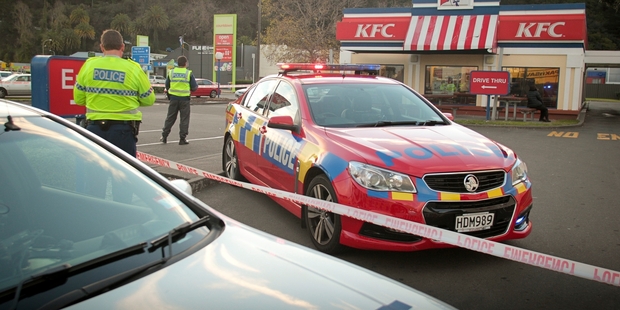 Clayton O'Brien's death has broken the hearts of his family, says a distraught aunt.
Geordi Che Latu'ila said her family were devastated after her 2-year-old nephew was run over and killed in the KFC carpark in Dickens St, Napier, on Thursday.
The youngster had climbed out of his family's car after it was parked in the carpark, before running behind it.
A car entering the carpark hit the boy.
Police were speaking to the male driver of the car which hit Clayton, as well as to the boy's parents and various witnesses who were in the carpark at the time.
Clayton's parents took him to a nearby medical centre after the incident but he died about 30 minutes later.
Ambulance staff, paramedics and the medical centre staff tried to resuscitate the child but he died at the centre.
Mrs Che Latu'ila, who lives in Motueka, was doing everything within her power to get back to Napier to be beside the boy's parents, her brother Clayton O'Brien and his partner Kylie Drager.
She said she expected to arrive tonight.
"Clayton [the boy's father] and I have always been close. I just want to get there and hug him.
"My mum was saying [the parents] were doing all right now but it will probably hit them [later] when they get him back."
The aunt described her nephew as a "special little boy".
"He was a very lovely, smiley, baby. He was our handsome little man. I can't believe this has happened to him."
Mrs Che Latu'ila said the family were close and would rally around the parents to help them through such a difficult time.
She said Thursday's tragic incident had been a "freak accident" and felt no ill will towards the driver.
"The driver didn't know that [Clayton] was going to be there," she said.
"As far as I'm concerned it was a freak accident and I actually feel sorry for him."
The family had yet to decide the funeral arrangements but Mrs Che Latu'ila said it might be held on Monday.
Until then, they had taken the young boy's body to lie at his family home in Napier.
The outpouring of grief from friends and family, especially on social media, had been a tremendous help, she said.
In one post on Hawke's Bay Today's website, Ria posted; "My condolences to the family. So heart breaking. Unfortunately at that age that's what they do.
"I had that with my oldest, lucky I was faster, but it certainly trained me for the next three kids.
"So I taught them to put both hands on the car door if I was handless with the words 'hold the car', they thought they were helping. The poor mum, could happen to anyone and it does."
Police were continuing their investigation.
For more articles from this region, go to Hawkes Bay Today