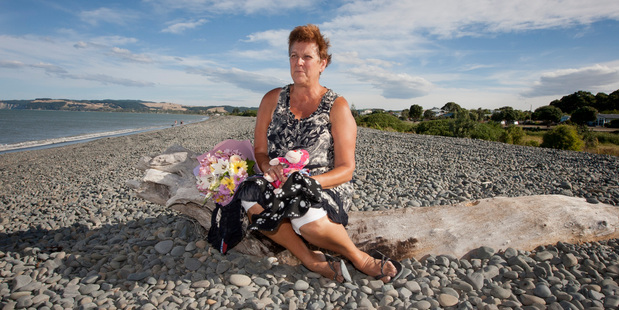 A speeding motorcyclist who fatally hit a fox-terrier puppy on Haumoana Beach has been called "dark" and "ugly" by the dog's owner.
Adam Rayner, 29 yesterday appeared in Hastings District Court and failed to defend a charge of dangerous driving after the incident on January 9, where 8-month-old Rosie was struck.
Owner Kay Hamilton said she was walking the miniature fox terrier in the evening when a quad bike driven by Rayner approached at speed. The bike - which was unwarranted and unregistered - was towing a trailer with two passengers.
Mrs Hamilton said she could hear "yee-ha" hoots coming from the bike's occupants before the dog walked slowly over to the bike and was hit.
Rayner then stopped and abused her, she said.
"I picked Rosie up and said to him, 'you've killed my dog'. He pointed his finger at me wanting to know why I didn't 'f****** look after my dog'.
"I asked him why, like other motorcyclists on the beach he didn't slow down. She [Rosie] was dying in my arms, with blood coming from her mouth. She was drowning from the blood forming in the back of her throat."
Local bylaws state dogs do not have to be on a lead in the area. The speed limit for vehicles on the beach is 20km/h.
Mrs Hamilton described the bike as "grey-black" in colour. "Everything about this bike and person was black, and dark, and ugly."
Rayner told the court he was only in third gear at the time of the accident and was driving no more than 15km/h. He estimated his stopping distance from the point of impact was about 15-20 metres.
He said the weight of his passengers in a trailer full of fishing gear made it impossible to travel fast.
"I couldn't have been travelling in 4th-gear as it just digs in."
He said speed was not an option as the bike had no mudguards, which would have pelted his two trailer passengers with gravel.
Judge Jonathan Down said the lengthy stopping distance wasn't commensurate with a vehicle travelling only 15km/h. He said he agreed with police who argued the dog's death was evidence enough that the bike was operated in a dangerous manner.
He ordered reparation of $2000 and disqualified Rayner from driving for six months.
For more articles from this region, go to Hawkes Bay Today