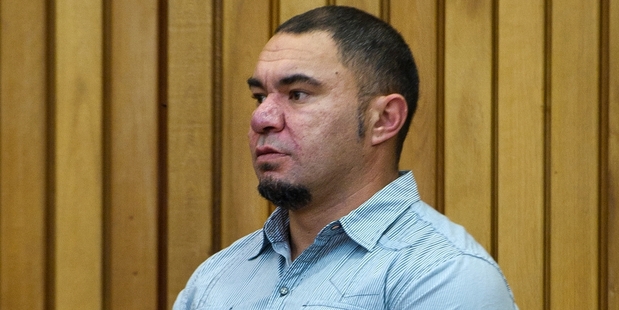 A 21-year-old woman abducted from a Tauranga Burger King drive-through last month confronted her abductor in court, who apologised for "destroying" her life.
Neihana Jeremy Rangitonga, 35, who has been jailed for four years, quietly listened as the tearful Mount Maunganui woman described how the terrifying attack in the early hours of May 10 had shattered her self-confidence and feelings of personal safety.
"I don't feel safe any more," she said. "I have never felt so self-conscious and uncomfortable in my own skin. I look in the mirror and the person looking back at me is not me - the person I see is a stranger," she said.
Rangitonga, who earlier pleaded guilty to one charge each of abducting a woman for sexual purposes and threatens to kill, was sentenced in the Tauranga District Court yesterday.
About 3am on May 10 the heavily intoxicated victim walked to Burger King to buy food at the fast-food drive-through but was refused service as she was on foot.
Soon after, Rangitonga arrived in a taxi and offered to take her through in his car.
After collecting his car from Grace Rd they returned to the drive-through but when he was told there was a 15-minute wait, Rangitonga drove off and headed towards Papamoa.
He ignored the victim's repeated pleas to let her out of the car, and tried to force her into sex, threatening to kill her if she did not comply.
The victim eventually managed to escape after kicking out at Rangitonga, and falling on to the road from the moving vehicle, which ran over her leg as he drove off.
The victim suffered bruising and numerous grazes and needed crutches to be able to walk after the attack.
The victim, who almost broke down several times, told the court that throughout the attack she feared she was going to be sexually attacked or killed.
Although she had healed from the physical injuries, except for a numb patch on her leg, the emotional scars would stay with her for a long time and she regularly suffered nightmares, she said.
Before leaving the dock, Rangitonga turned to the victim and apologised, saying, "I'm truly sorry to have destroyed your life ... I'm truly aware of what I have done, and I'm sorry."
Judge Christopher Harding described Rangitonga's crimes as being at the high end for this type of offending, which involved a significant breach of trust.
"This wasn't 'hop into my car' - this was 'come to the car and I will take you'. This is going to have a significant effect, not only on the victim but others close to you," he said.
For more articles from this region, go to Bay of Plenty Times