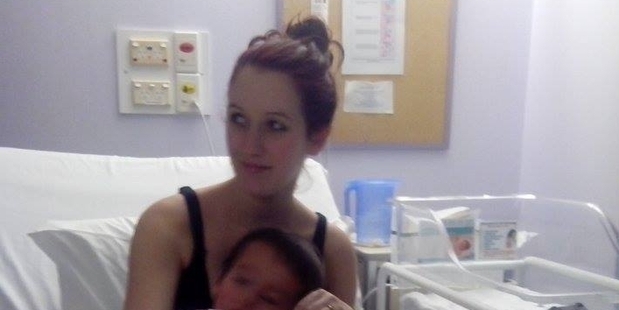 Giving birth in the car during an early morning dash to the maternity ward - on Black Friday - could have been a nightmare for Onerahi mum Jessica Dickens.
Instead, the birth of her daughter went like a dream - in the car, parked in Dent St outside Pak'n'Save, delivered with the help of Ms Dickens' father, at 2.26am.
She had been in strong labour for less than half an hour, having had a few pangs that stopped earlier in the evening, until she was woken by the birth pains at 2am.

The baby, oblivious to the excitement surrounding her birth. Photo / supplied
Her father Erin Dickens, from west Auckland but staying with his daughter to support her during and after the pending birth, was driving her to Whangarei Hospital when she had to tell him the baby was coming, fast.
"She was born within seconds of my father stopping and coming around to my side of the car," Ms Dickens said from Whangarei Hospital's maternity ward yesterday.
"I didn't have time to be scared, it was literally over in minutes."
After taking a few moments to collect themselves, mother, grandfather and new born baby continued their journey, the baby resting on Ms Dickens' chest, her umbilical cord uncut until they reached the hospital.
Ms Dickens said after coping with his daughter giving birth in his car, her father drove the rest of the way almost topless, having taken his shirt off to wrap the baby in.
The baby is likely to hear about her unconventional birth for the rest of her days but for now she's oblivious to the fuss.
"She's very well, really well settled," Ms Dickens said of her as yet unnamed daughter.
She was born two weeks before the estimated due date and weighed 3.5kg (7.7lb), her birth entirely different to that of Ms Dickens' first child, Lennix, 2, who was premature and born after a much longer labour.
"This is the first baby in our family to be born so quickly, let along so dramatically," Ms Dickens said.
For more articles from this region, go to Northern Advocate