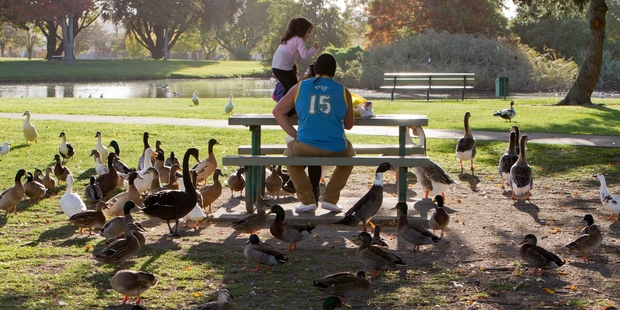 The SPCA is asking for information from the public after two men used a remote-controlled jet boat to fatally injure a swan at a local park's pond.
Tamatea local Nicole Penman, who lives near Anderson Park and often walks her dogs there, was one of three witnesses to the "horrific crime" at the park pond last week.
"I was taking my dogs for a walk. Usually the jet boats go out on the pond and none of the ducks are in the pond.
"On this particular Sunday, I don't know what made me stop, but I stopped to look at this guy hooning around on the pond with his massive red jet boat.
"I saw him circle around some of the swans and they didn't move, so he circled a buoy, I think to get a bit of speed up, and then he hit a swan."
Ms Penman said the remote-controlled jet boat, which was about a metre long, broke the swan's wing, ribs and leg.
"Its wing was bleeding. I came home and rang the police."
Meanwhile, the jet boat owners had refuelled the boat and steered it after a flock of ducks, fatally maiming one, Ms Penman said.
The next day Ms Penman said she tried several times to capture the injured swan with friends and SPCA staff.
They eventually succeeded by throwing a towel on the swan's head. A veterinarian later euthanised the bird.
The jet boat owners were described as aged 45-60 and wearing shorts, dark T-shirts and black jandals. One had brown hair and a full short grey beard.
Any information should be passed to the Napier SPCA.
For more articles from this region, go to Hawkes Bay Today