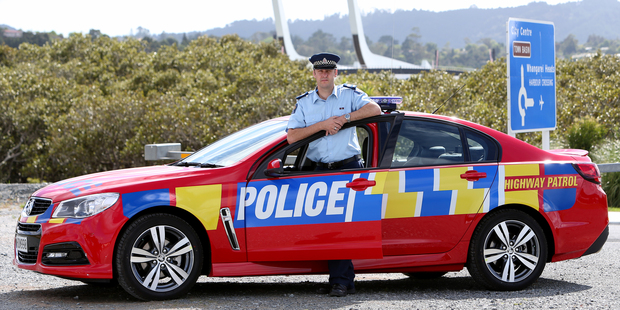 Police say a driver clocked speeding at 191km/h on a Northland road in thick fog was a "ticking time bomb" that could have obliterated innocent people.
The Holden Commodore car was found without the driver and extensively damaged after crashing off a rural Far North road yesterday.
Northland traffic police Senior Sergeant John Fagan said a highway patrol officer was driving south near Taipa in fog when passed by a dark-coloured car travelling in the opposite direction about 7.20am.
The police radar clocked the vehicle at 191km/h but due to the speed of the car the officer was unable to get the registration number.
Fifteen minutes later an off- duty ambulance officer reported being passed by a speeding car and managed to get the number plate and hand it to police. Mr Fagan said police checks showed the car was registered to an owner in Parapara Rd, north of Taipa. Officers driving along the road came across the extensively damaged vehicle.
There was no one in the car but as the officers examined the vehicle a woman arrived and claimed to have been driving.
A 29-year-old female will appear in Kaitaia District Court on a charge of dangerous driving. She was also forbidden to drive as her licence had expired.
Mr Fagan said it was one of the highest speeds police in Northland had clocked and such speeds were "ticking time bombs" with the potential to obliterate innocent drivers.
"Those sorts of speeds are ridiculous. No matter how good you are at driving you would never be able to react to something happening in front of you.
"The risk for everyone on the roads goes up exponentially at these speeds," Mr Fagan said.
The Far North incident comes on the same day police released national statistics showing April was the worst in four years as road deaths reached triple figures.
Nationally this year there have been 102 fatalities, including 38 deaths involving speeding drivers with speed and alcohol together accounting for another 48 deaths.
It comes only days after police stopped another driver after he was recorded at 156km/h near Waipu, while passing three other vehicles.
National Assistant Commissioner road policing Dave Cliff said it was frustrating it was still the basics - drinking and driving, going too fast for the conditions and not wearing a seatbelt, or a combination of all three, that was needlessly killing large numbers of New Zealanders on the nation's roads every week.
"While the vast majority of road users are doing things right, some are still making all the wrong decisions, with enormous cost to themselves, their families and other innocent road users," Mr Cliff said.
"At the current rate, at least another 200 people will die and another 1900 will be hospitalised for more than a day by the time we reach the end of the year unless all of us do our part, whether as drivers, passengers, mates or family."
Mr Cliff said preliminary reports from police into the 96 fatalities that occurred up to April 30 showed more than a quarter involved an alcohol-affected driver, more than a third involved a speeding driver, and half of all the deaths involved both factors.
In the last five years in Northland there have been 29 deaths and 149 serious injury accidents due to speed.
For more articles from this region, go to Northern Advocate