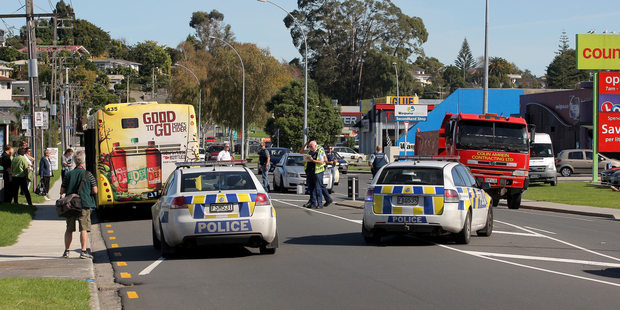 A woman has described how a man bounced off the front of her car and on to her windscreen before rolling under a bus.
The pedestrian, a 48-year-old man, suffered moderate injuries after he was hit while crossing Tauranga's Fraser St about 1pm yesterday. A Tauranga Hospital spokeswoman last night said the man was in a stable condition but would continue to undergo medical investigations.
Senior Constable Steve Murray said it appeared the pedestrian had run across the road from the Fraser Cove shopping centre towards the bus stop.
"He was trying to catch a bus, as far as we know he had been hit by a car coming through.
"Apparently he's been flipped and rolled underneath the bus, and they have rolled the bus back.
"I don't think the bus was moving at the time but, just because of the impact, that he's been hit and smacked against the side of the bus."
The driver of the car involved in the incident, Saphrin Lovell, said she had been travelling to the supermarket in her red Honda when the man crossed the road in front of her.
"I was just driving down the road at 50km/h. I had just gone through the lights and it had turned green.
"I didn't even see him. He must have been moving quite quickly and next thing he was right there. I tried to brake but didn't have time and he hit the corner of my car and bounced off that and on to my windscreen. Then off my windscreen on to the road by the bus."
Ms Lovell said the man had run from the Fraser Cove side of the street when she was passing the bus.
"I immediately stopped the car and jumped out. I just looked at him and it looked like he was bleeding."
Ms Lovell said her 12-year-old daughter was in the front passenger seat at the time of the crash.
"She has a bit of shock."
Fifteen-year-old Danniella Teautaku said she was walking to Burger King to get lunch when she saw the incident unfold.
Ms Teautaku said she thought the pedestrian had just come off the bus.
"I saw the red car, the bus and this guy run out from the left side of the road. He just ran forward and it looked like he was hit by the car, and he went flying in the air. It was so scary."
For more articles from this region, go to Bay of Plenty Times