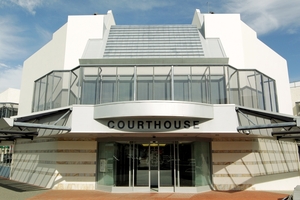 Joseph Te Rongopai Jury could spend more than seven years behind bars for stabbing his ex-girlfriend's new partner as he lay sleeping.
A jury found the 25-year-old not guilty of attempted murder but guilty of wounding with intent to cause grievous bodily harm following the dawn stabbing of Hemi Greening at a Morris Spence Ave home on December 16, 2012.
Jury was sentenced to seven years and six months' imprisonment by Justice Denis Clifford at the Napier High Court this month.
Jury's relationship with Naomi Le Geyt , with whom he had a child, ended not long before the stabbing and he was "having a difficult time" accepting the breakup, Justice Clifford said.
The evening before the attack, Jury went to the Onekawa house looking for Ms Le Geyt. When he couldn't find her he slashed her clothes.
Ms Le Geyt returned home early the next morning with her new partner and went to bed. Jury broke in about 5am, entered the bedroom and stabbed Mr Greening just below the ribs.
Mr Greening was woken and then stabbed in the stomach before he was able to defend himself and try to fight off the attack.
During the struggle Mr Greening was wounded with the knife twice on the left leg and twice on the upper left arm, including one blow which pierced a bicep. He also received cuts to his upper back and left ear.
Jury's brother, who was staying at the house that night, heard the scuffle and intervened before the two left and Mr Greening was taken to hospital. The weapon, believed to be a large fishing knife, was never recovered.
Justice Clifford, during sentencing on April 4, said text messages exchanged between Jury and a friend following the attack said he would stab any "hook up" his ex introduced to his son.
Justice Clifford said Mr Greening's victim impact statement spoke of the immediate and ongoing effect his injuries have had.
"He was initially off work for six months, and needed extensive rehabilitation. He continues to have ongoing effects, including loss of flexibility and strength in his body, and pain.
"These events have also impacted badly on his sleeping habits and on his social life more generally. His scars are a permanent reminder of your attack on him.
"Mr Greening's victim impact statement confirms the very serious harm you caused him."
Jury was a patched member of the Wairoa Chapter of the Mongrel Mob but was reportedly trying to move away from the gang's influence.
Justice Clifford said the attack was premeditated, involved a lethal weapon, caused serious injury, and took place when Mr Greening was vulnerable and sleeping.
Jury's sentence of seven years and six months "reflects the seriousness of what you did", Justice Clifford said.
"It has been reduced to take account of your remorse and your [early] guilty plea and I do encourage you to keep trying to go down the road that I accept you have been trying to go down in your life, until this very unfortunate event occurred."
The maximum sentence for wounding with intent to cause grievous bodily harm is 14 years' jail time.
For more articles from this region, go to Hawkes Bay Today