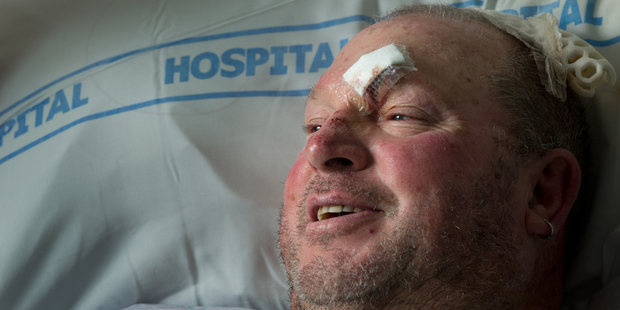 Top of hunter Tom Gordon's shopping list is a personal locator beacon.
The 58-year-old was rescued from Te Urewera National Park on Saturday -- hypothermic and injured - after three nights missing in the bush.
He's now recovering from his ordeal in Rotorua Hospital with a broken leg, dislocated knee and grazes across his body. The successful search and rescue at the weekend was described by Detective Sergeant John Wilson, head of the Rotorua police Land Search and Rescue team, as one of the best results he has been involved in.
Mr Gordon and five hunting mates were flown by helicopter to their campsite on Saturday last week, the 15th year they had been on a week-long hunting trip.
On Wednesday the Northland man headed out on what should have been a four-hour hunt but "took a wrong turn" and ended up on a different ridgeline to the one he had planned.
"I always hunt by myself. I've only got one lung and I can't keep up with the rest of them so I go at my own pace.
"I ended up miles from where I was meant to be and when I realised it was too late to turn around I set up camp."
On Thursday he continued on the path back to his campsite and met two hunters who confirmed his position.
"I thought it would take about 10 hours, so I had to make another camp that night. On Friday I got to the top of the ridge where our camp was below and I thought 'this is cool, I'm nearly there'.
"I was dropping down to the valley when I slipped on a rock and down a couple of banks. I fell on my back and landed on my head. I was in a gut [steep gully] where I didn't think anyone would find me. So I spent an hour trying to crawl 40 metres to a clearing."
He spent his third night in the bush in a survival bivvy bag and heavy rain on Thursday and Friday meant he was wet through. When he was found he was hypothermic.
He broke his gun in the fall, which meant he couldn't fire it to alert searchers.
"I knew people were looking for me as I could hear the helicopters. It's not the first time I've been bushed but the first time I've been injured. I knew if they didn't find me by lunchtime I would have to try to splint my leg and make a crutch to get back to camp. But it was great when they found me.
"One of my hunting party were in the team. They said they were expecting the worst.
"I'm already planning my next trip but I will certainly be packing a personal locator beacon. That has got to be a must. I wouldn't have set it off until I got hurt ... you never expect it to happen to you."
His partner Karin said personal locator beacons should be compulsory, just as lifejackets were for boaties.
She drove from their Kaeo home on Saturday morning and was halfway to Murupara when she got the call to say he had been found.
"I yelled out a big yahoo and then sat there and had a cry," she said. "I had every intention of growling him but I was just so glad to see him."
For more articles from this region, go to Rotorua Daily Post