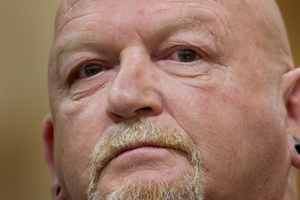 The family of a Rotorua man who was stabbed to death say they can "finally start to heal" after his murderer was sentenced to life in prison for the second time.
In the High Court at Rotorua yesterday Christopher Allan Heenan, now 54, was found guilty of murdering 36-year-old Raukawa Newton on October 11, 2007. He was sentenced to life imprisonment with a minimum non-parole period of 10 years.
The jury took just over three hours to reach its verdict after a retrial before Justice Raynor Asher.
Heenan was first found guilty of Mr Newton's murder in February 2011 and was sentenced to life imprisonment, with a minimum of 10 years.
Heenan appealed the conviction on the basis that evidence from five prosecution witnesses should not have been allowed at trial.
This included "propensity" evidence that Heenan often became aggressive when drunk and claimed he could not remember negative or embarrassing things he had done.
In its decision released in June last year the Court of Appeal upheld Heenan's appeal, quashed the conviction and ordered a new trial.
The decision was suppressed so as not to prejudice a fair retrial.
On the night of the murder, Heenan had been drinking at his home on Konene St with Mr Newton.
It was the Crown's case Heenan became angry when Mr Newton, who suffered from bipolar disorder, began "conjuring up gods". He approached Mr Newton from behind and stabbed him with either a large carving knife, a Leatherman tool or both. Mr Newton's aorta was severed and he died within minutes.
Heenan had six superficial wounds to his abdomen and one to his arm, which were self-inflicted in an attempt to make it look like Heenan had acted in self-defence.
Mr Newton's mother Charmaine Burnett said yesterday her family were "jubilant the right verdict was made again".
"Revisiting the trial again was anguishing and we had to be put through it all over again for the same result. What a waste of taxpayers' money," Mrs Burnett said.
"It triggered for us all of the trauma again and the most difficult part was having to listen to the brutal lies about Raukawa and show no emotion in court, he was never aggressive, he was always known for his gentleness."
Mrs Burnett said Mr Newton left behind four children and his now 10-year-old son asked weekly why Heenan killed his father.
"What do you say to your grandson? There's no explanation, no rational reason. It was a cold, calculating murder," she said.
"At least now we can finally start to heal and try and move on, we're relieved it's all over and my son can finally be at peace."
For more articles from this region, go to Rotorua Daily Post