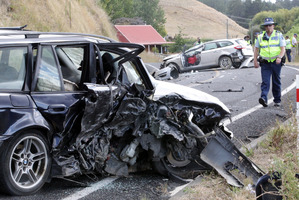 The young mother-of-two killed in a head-on smash yesterday in Hawke's Bay has been named as Sarah-Jo Manaena.
Police are investigating the accident which happened on State Highway 50 near Maraekakaho about 1.45pm when Mrs Manaena's BMW station wagon collided head-on with a Ford Mondeo.
The Pakipaki woman's two daughters, aged 21 months and a 3-years-old, were in the car at the time of the crash.
Members of the public made attempts to save Mrs Manaena, but were unable to free her from the wreck.
Police said she had been visiting her parents at a nearby address just prior to the crash, closing the road for about four hours.
The two girls were in approved child restraints but suffered moderate leg injuries. Both children were taken to Hawke's Bay Hospital for treatment before being discharged.
The driver of the second vehicle, a 44-year-old female, survived the crash with minor injuries.
She was also taken to hospital and later discharged.
"This is an absolute tragedy that sadly was preventable,'' Senior Sergeant Greg Brown said. "Two children are now without their mum.
"Initial investigations suggest that the BMW was on the wrong side of the road as it began to negotiate a series of moderate bends.''
He said the 2012 Ford Mondeo had eight airbags that activated on impact, effectively cushioning the 44-year-old driver from the severe force of the crash, including when the vehicle hit a bank and rolled after the initial collision.
"This crash highlights the safety features of some modern vehicles that significantly enhance the ability for occupants to survive crashes when they occur.
"This is a clear example of a modern vehicle reducing the impact of what was a significant head-on crash,'' he said.
The death is being investigated by the Hawke's Bay Serious Crash Unit and would subsequently be referred to the Coroner.
Police said there were no witnesses to the crash but anyone with relevant information should contact Hawke's Bay Police.
For more articles from this region, go to Hawkes Bay Today