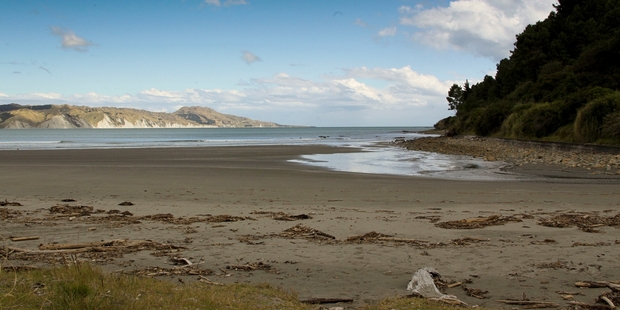 A surfer who used his experience on the coasts of New Zealand and Australia in an unsuccessful attempt to save a woman's life at Mahia Peninsula Beach is surprised people were swimming in the area.
Ross Shields, a 63-year-old retired industrial chemist now living in Hamilton, was looking for a surf on Sunday afternoon and had already decided against entering the waves at Blue Bay, Opoutama, when he saw the first signs of trouble.
"There was a good swell, and it was all over the place," he said.
"Like a washing machine. It was horrible."
He saw two surfers, at a spot known as The Tracks, and a short distance from where the tragedy happened. But the sea was "a mess", and Mr Shields thought: "What are these guys out there for?" But it didn't stop him leaping into action when two boys came running towards him from further along the beach and told him they needed help because their mother was drowning.
Wife Fiona grabbed Mr Shields' surfboard and he headed for the water, telling the boys to run to a nearby house for help.
He also asked his wife to activate a personal locator beacon the couple had in their vehicle for alerting authorities if there were emergencies on their tramping trips.
Mr Shields, who had helped struggling people in the water before, had to abandon the board as he tried to get the woman afloat and he and another person dragged the victim ashore.
His wife began resuscitation at the water's edge but the woman did not recover. The Mahia first-response team arrived soon afterwards, and even emergency service helpers had to rush for safety as another wave crashed in.
Last night, police had still not publicly identified the 47-year-old woman, who lived in the area and was understood to be from Hastings.
Police said she got into difficulty about 1.30pm trying to rescue her son from the one-metre surf, although others estimate surf was up to three metres in areas across the bay towards Mahia at times during the afternoon.
The beach is usually regarded as safe and calm.
But police were alarmed about the similarity of yesterday's tragedy to an incident in November when two people died to the west near Whakaki in November.
From Granville, Sydney, Mr Shields has visited many New Zealand beaches over the years, including Mahia, about 40 years ago.
He and his wife decided to move to Hamilton about two years ago to run a business they'd bought as a retirement investment. "I had always liked New Zealand," he said.
One of the boys who escaped the water was the victim's son, a pupil at Nuhaka School, where yesterday's opening hymn and prayer were dedicated to the woman and the family, said principal Nick Chapman.
The woman's sister also lives in the Mahia area.
For more articles from this region, go to Hawkes Bay Today