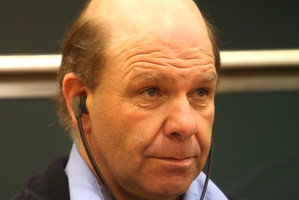 A former Far North mayoral candidate who is now serving a lengthy jail sentence on sex and violence charges has lost his bid to stop his farm being sold.
The High Court at Whangarei has removed Allan John Titford as a farm trustee to enable its sale to proceed.
Titford was the primary beneficiary of an Awanui farm, a 230-hectare property 13 kilometres north of Kaitaia, which was bought in 2002, with others being Mengha Trustees.
His wife Susan Cochrane and their seven children are also primary beneficiaries under the trust deed.
Gina Tarasiewicz, a director and shareholder of Mengha Trustees, and Ms Cochrane had an offer from a potential buyer who was willing to pay $2.21 million for the farm but could not proceed without Titford's agreement. That had not been given.
Ms Tarasiewicz told the High Court that the farm owed $70,000 in rates arrears and had to pay $200,000 to comply with obligations under the Resource Management Act.
Titford told the court the property was worth $6.8m and said mismanagement had led to its problems and the subsequent ``fire-sale'' price.
Titford said the farm could be converted to a beef unit, which would alleviate financial pressures but Justice Graham Lang considered the proposal was unrealistic.
The judge said he was satisfied there was a real risk that Titford may take steps that may obstruct the proposed sale of the property.
Justice Lang removed Titford's power as a trustee and authorised the Mengha Trustees to proceed with the sale.
Funds raised would be used to pay off outstanding debts with the balance held pending further orders from the court.
Titford was jailed in November for a total of 24 years on 39 sex and violence charges spanning more than two decades.
The charges included 14 counts of assault with a weapon, seven of assault, four of male assaults female, three of assault on a child, three of sexual violation, two of arson, and single charges of using a document with intention to defraud, threatening to kill, assault using a weapon, perjury, attempting to pervert the course of justice and discharging a firearm.
The sexual offences were committed against his former wife, who in an unusual step waived her right for name suppression so Titford could be named.
Titford came to prominence in the late 1980s and early 1990s over a dispute with the Crown over a farm he owned at Maunganui Bluff.
The land was subject to a claim by Maori and was eventually bought by the Crown to give to the hapu. Titford claimed that the hapu had torched his home and caused other damage to his farm during the dispute. The jury found he made up many of his claims.
For more articles from this region, go to Northern Advocate