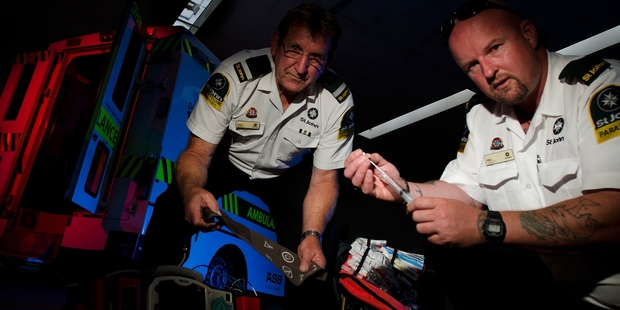 One bee sting almost cost a Rotorua man his life.
St John paramedics have credited Jared Cropp's father, Joe, with saving his life after he chose to stop at a Fenton St motel and call 111 rather than drive to hospital when he fell unconscious.
Jared, 36, had been helping his father collect honey this month from his hives near Horohoro. He helped out last year and was stung, but suffered no reaction. This time he wasn't so lucky.
"I was opening the gate to drive the truck out," Jared said.
"I had to take the hood off [from my protective suit] and as I went to unzip there was a bee on the zipper. As I reached around it stung me on the finger. It was 15 to 20 minutes later I fell unconscious."
He said they were driving back when he started to feel faint and experienced trouble breathing. He mentioned the sting to his father, who was driving.
"After I told him I went downhill."
But within minutes he had slumped forwards unconscious.
"Joe looked over and noticed he wasn't looking too well so he pulled over and called us," said St John paramedic Mike France. "Recognising that his son was sick and stopping to call us saved his life. He is the true hero in all this."
When Mr France and his partner paramedic Arthur Turner arrived Jared was "clearly unwell".
"He looked like he was in cardiac arrest."
They quickly got to work, intravenously administering adrenaline and fluids and used the nebuliser adrenaline - a mask.
They said his recovery was almost instant, but he was taken to Rotorua Hospital in a critical condition.
"When we got to him he was a couple of minutes away [from dying]," Mr France said.
Anaphylaxis is described as your body going into shock. If Jared had not received treatment, Mr Turner said, he would have gone into respiratory arrest.
"If his father had made that call to drive the extra distance to the hospital the outcome wouldn't have been the same."
Jared was later discharged from hospital with the advice to steer clear of bees and given an EpiPen (device carried by people with severe allergies) in case he gets stung again.
"The doctors couldn't answer why I've never been allergic before," he said from his Mangakakahi home.
"I've been stung heaps of times, but now I've been told to keep well away from bees."
Allergy New Zealand advisor Penny Jorgensen said it was unknown how many people were allergic to bee and wasp stings.
For more articles from this region, go to Rotorua Daily Post