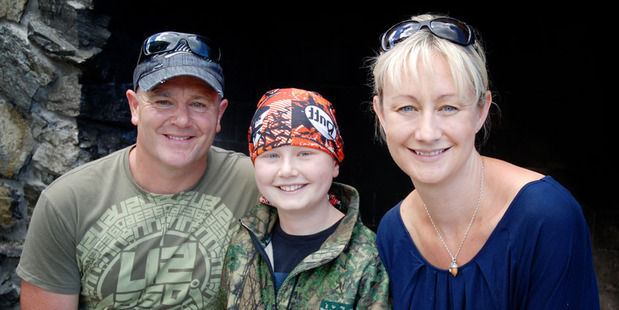 Harrison Mundy's battle with cancer captured the hearts of the community but a week ago the 11-year-old finally lost his fight. His parents Allan and Hayley talk to Kiri Gillespie about their son's brave journey.
A purple heart framed by rainbow beads marks the end of Harrison Mundy's courageous journey.
"The purple heart was the last bead," his mum, Hayley Mundy, says from their Papamoa home, weaving a long and heavy beaded rope through her hands.
"That's for no more chemo or operations," she adds, gently placing the heart and other beads on the coffee table.
Mrs Mundy and husband Allan were at Harrison's bedside when he died at home on Sunday, February 16.
"In the end he had to go," Mrs Mundy says. "He was sick and just couldn't hold on anymore. He knew that it was okay to let go."
Each bead on the long and colourful rope sitting on the table represents an operation or medical treatment Harrison endured in his often public fight against cancer. Mrs Mundy was not sure how many beads there were. "Maybe 400."
Eleven-year-old Harrison died a week ago and will be farewelled in a funeral service at Holy Trinity Church and reception at Omanu Beach Surf Lifesaving Club today.
Harrison was training for the Omanu Sticks hockey team in June last year when he fell, complaining of pain to his little finger and arm afterwards.
The sporting injury resulted in the diagnosis of Ewing sarcoma - a rare form of cancerous tumour that grows in bones or soft tissue around them.
Harrison spent months in and out of Auckland's Starship Children's Hospital, braving debilitating chemotherapy and radiotherapy.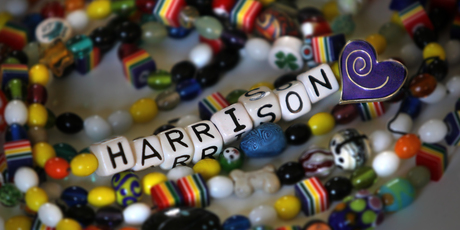 His battle became a public one, sparking fundraising events that rallied people together.
Mr Mundy said his boy never gave in.
"He never complained, right up to the end. He just took it in his stride, which was wicked," Mr Mundy said.
"It's quite sad to think now, you know, we were so blessed. He had a lot to do with us getting through this.
"If he complained or was upset - it cuts your heart strings. But we were spared from that. He put on a good front for us. That's how empathetic he was. It was dire but he never let it show."
Mr Mundy said Harrison was laughing and joking, "right up to his second-to-last day - full-on belly laughs".
Four weeks ago, not long after Harrison celebrated his 11th birthday, the Mundys found out the cancer affecting the tumour on his spine had spread to the rest of his body.
"It was so quick - just on the turn of a dime," Mr Mundy said. "One day he was happy, jumping around and the next he was .. . in hospital."
Doctors told the Mundys their only child's chance for survival had dropped dramatically.
"But as a parent, even with a 0.1 per cent, you are going for that. Running toward that light at the end of the tunnel," Mr Mundy said. "We were told it was a case of prolonging rather than curing. So we aimed to prolong it, forever."
Mr and Mrs Mundy brought Harrison home.
Through Mr Mundy's work as a teacher at Mount Maunganui College and lifeguard with Surf Lifesaving New Zealand and Mrs Mundy's job at House of Travel Papamoa, the family were inundated with support.
Mr Mundy said they were deeply appreciative of the love and generosity offered.
Mr Mundy said it was Harrison's legacy to knit together so many different circles of society "and I hope it continues, not just for us but for the whole community".
As well as a race up Mauao and an expedition of stand-up paddleboarding the Waikato River, a friend of Harrison's arranged and cooked his own barbecue outside Te Puke New World to fundraise. He gave all the money to Harrison in a little pink pig.
Other friends have written letters to Mr and Mrs Mundy.
"These are 10- and 11-year-olds not just saying 'we're sorry to hear .. .' but writing full-on letters, articulate, beautiful letters," Mr Mundy said.
Those gestures helped brighten the family's journey over the past seven months, the Mundys said.
This year would have been Harrison's first at intermediate. Instead, his old school friends from Omanu Primary School will honour their friend by singing Bruno Mars' Count On Me as his body is brought into the funeral service today.
A large crowd is expected at the service, with many people from Mount Maunganui College, which has closed for the day.
A balloon release at Omanu surf club and a traditional paddle out to sea will follow the service.
For more articles from this region, go to Bay of Plenty Times