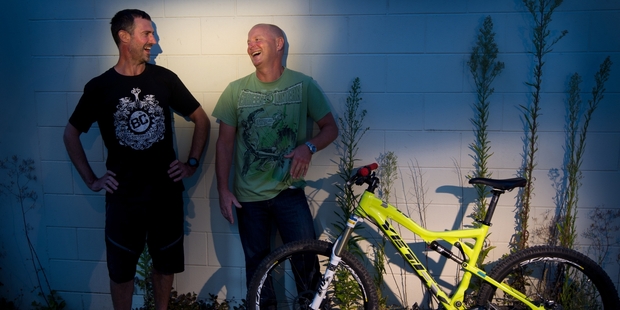 A Swiss tourist has admitted stealing two mountain bikes after he was caught red-handed in the Whakarewarewa Forest in the midst of a national championships.
Daniel Buchs, 29, appeared in the Rotorua District Court yesterday where he pleaded guilty to two charges of theft. He will be sentenced on Thursday.
According to the police summary of facts, Buchs rented a Yeti 575 mountain bike worth $5000 from the Outdoorsman Headquarters on January 29, and an Avanti Aggressor Hard Tail bike worth $2000 from Planet Bike on February 8.
On both occasions he used a false name and told staff his identification and credit cards were in his girlfriend's car and she was away. They agreed to let him pay when he bought the bikes back but he did not return them. The Avanti was found in the forest hours later with its wheels removed.
Rotorua police tactical crime unit manager Sergeant Colin Peers said images of the Yeti 575 had been circulated across New Zealand mountain biking networks and police had received sightings of it as far afield as Wellington.
But it wasn't recovered until Sunday when it was seen being ridden in an area of the Whakarewarewa Forest being used for the Bike NZ National Downhill Mountain Bike Championships.
Bike Culture shop owner Rob Smail and Rotorua Bike Festival events co-ordinator Kim McVicker were at the car park by Hill Rd when they spotted the bike being put into a car.
"I decided to go and talk to him and said I knew his bike was stolen," Mr Smail said.
"We couldn't believe he was still around. He looked like he was going to do a runner so I asked Adam King who was driving past to stand with me."
He then called off-duty police officer Sergeant Dave Hamilton, who was organising the downhill race, to attend until Rotorua police could arrive.
In explanation to police, Buchs said it was expensive to rent mountain bikes and he had planned to leave the Yeti 575 outside the Outdoorsman before he left Rotorua.
Mr Peers said Buchs had underestimated the mountain biking community.
"It's awesome work on their behalf and it makes our job a lot easier. It's good work from our community, we put it on our Facebook and it went viral. The mountain biking community is a small community and everyone knows everyone."
Buchs, who needed a Swiss interpreter in court, was yesterday granted bail but was later recalled as the occupant of the Rotoma bail address advised she didn't want him. He was instead remanded in custody until Thursday. Police have confiscated his passport.
For more articles from this region, go to Rotorua Daily Post