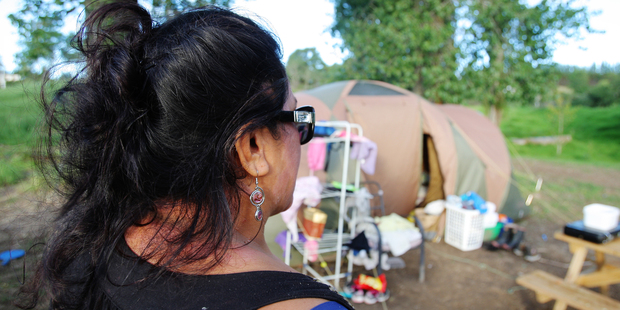 A family of seven who had been living in a tent have been given the keys to their new home.
The family, including five children aged 2 to 11, had been living in a two-bedroom tent next to the Wairoa River, just outside Bethlehem, since December 13.
They had to use the public toilets across the bridge and bathe in the river.
The family had applied for several rental properties on Trade Me and waited for their application with Housing New Zealand to be processed for several weeks.
Housing New Zealand handed them the keys to their new home yesterday.
The family was ecstatic.
The mother of five, who wanted to be known only as Kylie to protect her children's identity, said she was overjoyed with how quickly the dire situation had turned around for the family.
"It was literally two and a half days and it's [the new house] perfect.
"It has four bedrooms and heaps of room."
The family's ordeal was highlighted on Facebook after Kylie posted about her family's struggles.
They were inundated with donations of food, nappies, clothing, toys and gas the day she first posted on Buy, Swap, Sell Tauranga.
"I had to do something but I am so overwhelmed with the support we've had," she said.
"I was flat tack on the phone with people offering support, I don't even know how to say thank you to everyone."
The family was planning on moving into their new home straight away.
Housing New Zealand Area Manager Teresa Pou said she was pleased to be able to house the family so quickly.
"It was the first suitable property that became available," she said.
"We don't have many large properties available in Tauranga. This particular property became available in the past few days due to the tenancy ending, so we were able to offer it to the family."
For more articles from this region, go to Bay of Plenty Times