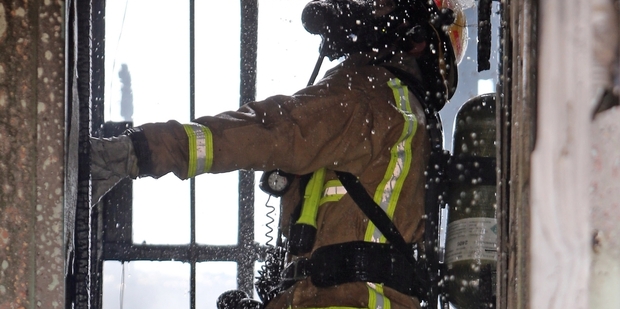 Four adults and three children fled their burning home in Whangarei as a fire destroyed the two-storey building and damaged an adjoining flat.
Fire safety officer Craig Bain said the fire was probably started in the lounge by children playing with a lighter under a hut they had made using a foam mattress, which would have quickly caught alight, spreading flames.
Police, St John ambulance and firefighter personnel were at the William Jones Dr Housing New Zealand flat shortly after the alarm was raised about 1.15pm yesterday.
Residents from nearby homes lined the street and watched as firefighters quickly got the blaze under control.
However, the house was extensively damaged and the fire destroyed everything on each of the floors.
It had also started to burn through the roof and an attached shed of a second flat.
Whangarei police Sergeant Stephanie Hudson said four adults and three children had been in the house at the time. The children had been playing and building a hut on the bottom floor when two of the adults had noticed smoke.
They had managed to get out, as had two adults upstairs at the time.
The occupant of the adjoining flat, Drummond Leaf, said he had been in Tikipunga when he got a call from his brother to say there was a fire.
He had made the short drive to Otangarei with his partner and their children to find smoke pouring from the adjoining property.
He had run inside and managed to get his stereo system and a pair of his favourite shoes before he was forced to stay outside. Mr Drummond said he had lived in the flat for five years and knew the couple next door and their kids.
"Oh, it's a shock all right to see all that smoke. I don't know where I'm going to be sleeping tonight," he said. "At least the others got out okay."
District operations manager for St John Ambulance, Tony Devanney, said two adults were treated in an ambulance at the scene as a precaution.
For more articles from this region, go to Northern Advocate