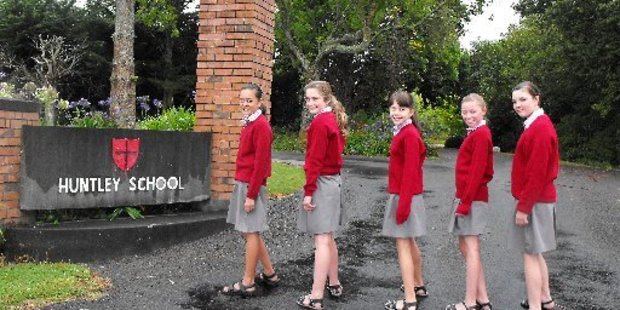 Huntley School's 117-year tradition as a boys-only school was broken yesterday, with 26 female student enrolments.
Headmaster Brad Gay said opening the roll to girls for the first time was a unanimous decision by the board of trustees and senior staff.
Including girls was a long-term strategy to ensure the school remained viable.
"There is a population decline in this region but our start to the year is fantastic."
The opening roll is 143, which Mr Gay says he expects to be 150 by the end of the year.
"Part of the drive for us was that we have always said we are a family school."
Any preconceived negative notions about girls starting at the school had not materialised, with most having a brother at the school, or older brothers who had attended and gone on to Wanganui Collegiate.
The 10 Year 8, 10 Year 7, and six Year 6 girls had exceeded the 15 places the school had budgeted for, Mr Gay said.
"To have 10 girls come for the one year [Year 8], is outstanding."
The planning for the 2014 intake started two years ago, with a $600,000 renovation and earthquake strengthening of the old dormitory building.
Of the 26 new female students, 12 are boarders in the new Sherriff House dormitory, although it can take 20.
The Year 8 girls the Chronicle spoke to each said how they liked the idea of boarding, with Sophie Ward saying it was to be a "year-long sleepover".
The boarding house is named after former headmaster Spratt Sherriff, who allowed his daughters to attend Huntley in the 1950s. However, enrolment was not open to any other girls.
A great-great niece, Lily Sherriff is one of the new students this year.
In 2012, Mr Gay went to England to see how schools had adapted to going co-ed.
Huntley had also looked at Wanganui Collegiate's co-ed success, he said.
For more articles from this region, go to Wanganui Chronicle