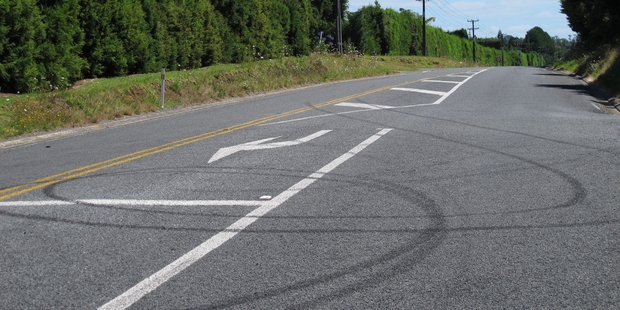 A 25-year-old man from Okaihau has been saved by a technicality from being the first Northlander to have his car crushed under boy-racer legislation.
Last week the Advocate reported there had been 257 convictions in Northland under new laws designed to crack down on illegal street racing since 2009. Ten of those were "second strike" offences but, at that time, no one had racked up a third boy-racer conviction. After a third offence the courts can confiscate the offender's car and have it crushed.
The Okaihau driver came close to being the first Northlander to have his car flattened when locals reported a Nissan Skyline doing burnouts near the intersection of Kerikeri Inlet Rd and Blacks Rd around noon on Friday.
Police located the vehicle shortly afterwards on Sammaree Place, another road favoured by boy racers, and charged its driver with sustained loss of traction. Because it was the 25-year-old's third time charged with a boy-racer offence, fed-up Inlet Rd residents hoped his car would end up in the crusher.
However, the law requires the three offences to occur within a four-year period.
The arresting officer, Senior Constable Felicity Beckett, said the man's three convictions were spread over seven years. He would appear in Kaikohe District Court on January 24 and his car had been impounded for 28 days, but his 1989 Skyline could not be sent to the crusher this time.
An Inlet Rd woman, who did not want to be named, said boy racers regularly used the Blacks Rd intersection and even someone's front yard for doughnuts and figure-eights. The latest incident, at noon on a Saturday, was "too cheeky for words". It was only luck that no other cars had come around the corner at the time, especially when he lost control and ended up on the wrong side of the road.
Another resident said it was only a matter of time before someone was killed by a boy racer. It was a busy road used by horses, children, dogs and bicycles, she said.
The woman said she and several other residents would gladly volunteer to press the button on the car crusher.
If the three-strikes law had to have a time limit, it should be a lot longer than four years.
"If someone is doing something criminal or antisocial, four years is nothing ... There's no way these kids are caught on every occasion," she said.
Other places popular with boy racers are Bulls Gorge, the intersection of Kerikeri Rd and Ranui Rd, and the Mill Lane industrial area.
For more articles from this region, go to Northern Advocate