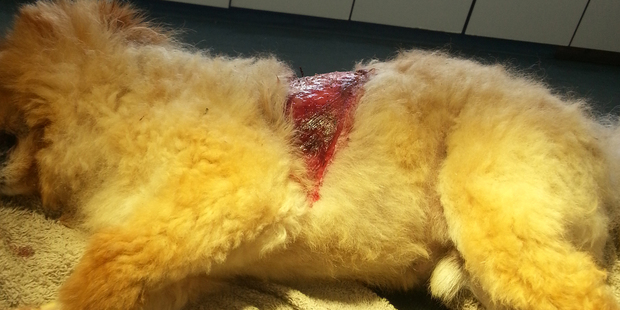 A Tauranga woman is calling for dog owners to take better control of their pets after her Pomeranian was attacked and almost "skinned alive" while she was walking him near Lake Rerewhakaaitu.
Karen Peters was walking Charlie near the Rerewhakaaitu lakefront, south of Rotorua, last Thursday when he was "brutally" attacked by a larger dog. The animal, which was on a leash that was held by a child, had approached 8-year-old Charlie and suddenly started attacking him, overpowering the child, Mrs Peters said.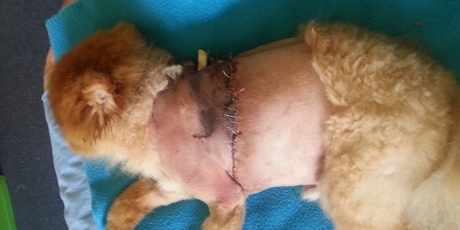 "I was in absolute shock at the time. The other dog just snapped, he held Charlie in his mouth and shook him at least a dozen times.
"It was horrifying. I didn't know what to do - I just screamed," she said.
Mrs Peters rushed the badly injured Charlie to the Rotorua SPCA where he needed about 30 stitches.
"Basically, he had been skinned from his neck down.
"He's just so lucky to be alive."
Mrs Peters, who was a dog trainer, said the attack was a reminder dogs should be kept under control and be constantly watched by their owners when they are out in public places.
"There's no way a child can control a big dog like a German shepherd. The dog's owners should have known better."
Mrs Peters said Charlie had not been on a leash at the time of the attack but she said in future she would keep him on one.
Under the law, dogs are required to be on a leash, held by a person capable of controlling the animal, in urban public places. In rural areas dogs are allowed off leashes but must be controlled by their owners.
Mrs Peters said she wanted to see larger dogs muzzled to prevent accidents like this happening in future.
Rotorua District Council animal control supervisor Kevin Coutts did not believe all big dogs needed to be muzzled, only dogs that had proved dangerous or menacing in the past.
"Small dogs can bite just as much as big dogs," he said.
Mr Coutts said it was important that people walking their dogs had the physical strength to control them.
Incidents such as this were not uncommon, he added.
"It all comes down to owner responsibility. Owners must control, and be able to control, their dogs."
The family who owned the dog that attacked Mrs Peters' dog has offered to pay her vet bills. The family could not be contacted for comment.
For more articles from this region, go to Rotorua Daily Post