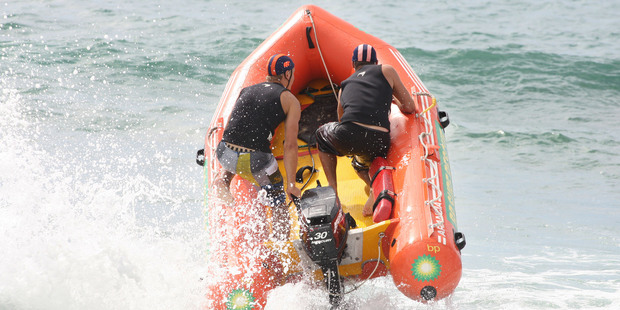 Two men blown 2km out into Bream Bay in a child's inflatable dinghy were rescued by Ruakaka Surf Lifesaving Patrol lifeguards yesterday.
The men, both Asian and in their 20s or early 30s, were swept out from the beach near the Uretiti rubbish dump about 2.30pm. They had no lifejackets or oars.
Their families contacted Ruakaka police, who sought help from the Ruakaka patrol and also notified the Coastguard and other emergency services.
Patrol captain Tania Ahrens said four lifeguards - Briar Taylor, Connor Cooper and Tania's children Maysha and Joel Ahrens - headed out in two inflatable rescue boats and found the men 2km offshore about 3.15pm.
They towed them back to shore, where the pair were given advice on water safety by police.
It was the main rescue recorded during a busy period on Northland beaches, which had big crowds enjoying the brilliant sunshine before rain set in yesterday afternoon.
Tania Ahrens said the action had started at Ruakaka on January 2 when a mini-gala organised by the patrol had drawn 1100 people - the most she had ever seen on the beach. Up to 500 people were at Ruakaka beach on Saturday, but numbers were lower yesterday after rain began "bucketing down" in the early afternoon.
Whangarei Heads lifeguard Nicole Wrack said the sea off Ocean Beach was choppy on Saturday, but a big crowd of 200 enjoyed the sand and sunshine.
Yesterday the sea had cleared up and the weather was hot, but the prospect of rain kept numbers down to about 100, she said.
Waipu Cove Surf Lifesaving Club captain Laura Andrews said there were up to 400 people on the beach on Saturday and lifeguards had taken preventative action such as moving flags to avoid undertow risks.
Yesterday, the surf had settled down to "nice sets of about 1.5m".
At Mangawhai Heads, about 300 people were on the beach on Saturday morning, but the crowd thinned out in the afternoon as conditions became windier.
The Northern Advocate was told there was only one minor issue with surfers losing their boards which then became a potential hazard for swimmers between the flags.
Yesterday was quiet at Mangawhai after the rain started and it was suggested people heading home after their holiday breaks contributed to the reduction in beach numbers.
For more articles from this region, go to Northern Advocate