Arrest in armed hold-up case.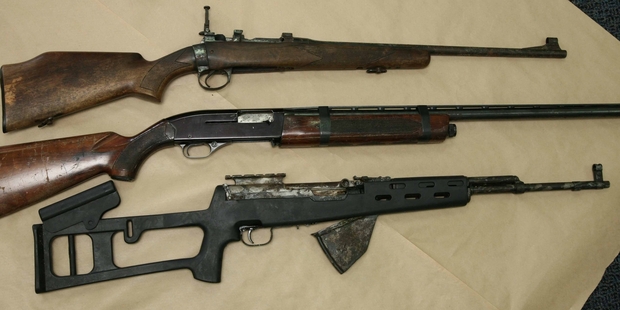 Three members of the Rebels gang have been arrested after the armed robbery of a security van collecting cash from a busy supermarket.
The arrests were made after police searches around Kaikohe uncovered guns, ammunition and part of a P lab. Police say the men pointed a gun at a security guard as he was leaving Kaikohe New World on September 23, and made off with a large sum of cash. They allegedly fled in a stolen car, found weeks later burnt out near Pipiwai.
Kaikohe police searched a number of properties early on Tuesday morning as part of an investigation into the Rebels gang. They seized three firearms - a shotgun, a rifle and a semi-automatic - plus a Harley Davidson motorcycle from a Kaikohe address. Ammunition plus glassware and chemicals for making methamphetamine were seized at a rural property south of the town.
Three men were arrested and appeared in Kaikohe District Court yesterday on a variety of charges, including armed robbery, theft of a motor vehicle, arson and unlawful possession of firearms.
The officer in charge of the operation, Detective Sergeant Chris Fouhy, said the armed robbery was a stark reminder that criminal gangs such as the Rebels were involved in more than just drugs and stolen property.
"They are prepared to put lives at risk. The police will use all the tools we have available to us to target these criminals and dismantle their activities. It is particularly pleasing to get this arsenal of firearms out of their hands."
Mr Fouhy said police, and the Kaikohe community, would not tolerate criminals in the town.
"The public can rest assured that we will leave no stone unturned when serious crimes such as this aggravated robbery occur."
Mr Fouhy said anyone else who knew about the robbery or the arson of the getaway car could ring Kaikohe police on (09) 405 2960 or Crimestoppers, anonymously, on 0800 555 111. The Rebels, an Australian motorcycle gang, have been striving to get a foothold in Northland. They set up a short-lived club house in an industrial unit in Whangarei and moved into a commercial property on Kaikohe's Mangakahia Rd.
Their plans to buy the property, however, are believed to have fallen through. The property is back on the market.
*Three Kaikohe men appeared in the Kaikohe District Court yesterday. They were Ngawati James Paul Wilson, 26, charged with armed robbery, theft of a car, stealing petrol, and arson of a car. Cliff Charles Wharerau, 37, was charged with armed robbery, theft of a car, stealing petrol, three counts of unlawful possession of a firearm, and receiving a firearm. William Michael Waiti, 36, was charged with helping Wilson evade arrest, and possession of equipment and materials capable of being used to make methamphetamine. Wilson and Wharerau were remanded in custody and are due back in court on December 6. Waiti was granted bail to December 17.
For more articles from this region, go to Northern Advocate