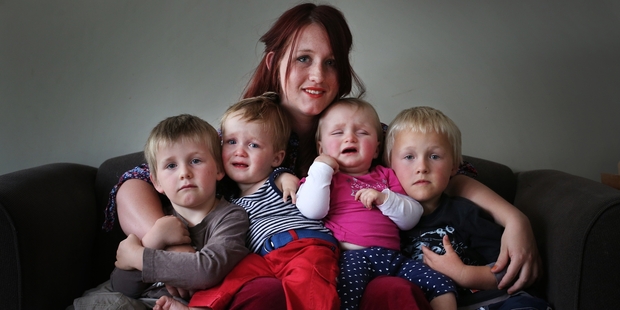 Funds for a new car for a Tauranga family with severely disabled twins are still rolling in.
Nikki Stokes and James Fowler-Oates' youngest children Felix and Madeline, 18-months, were born with serious medical conditions. Madeline is blind and her body does not produce enough hormones. Her brother, Felix, was born without arms.
The family of six do not have a car big enough to transport them all so family outings are few and far between.
A local couple, who did not wish to be named, read about the family's plight in the Bay of Plenty Times Weekend and this week delivered a cheque for $1000 to go towards a car or clothing for the family.
It was important to help locals in need as well as giving to overseas charities, the woman said. "We've all got so much in this country and sometimes the things that happen to people, like this family, are so overwhelming for them. When one has something that we can share, let's do it."
Ms Stokes said it was nice to see the community taking such an interest in her family.
"We've had lots and lots and lots of people making contact. It's actually been really amazing," she said.
Others wanting to help have been in touch with Christchurch-based charity Smile Dial, which supports families that have children with a disability. Founder Kelly Dugan has had $350 deposited into his bank account to go towards a car for the family.
For more articles from this region, go to Bay of Plenty Times