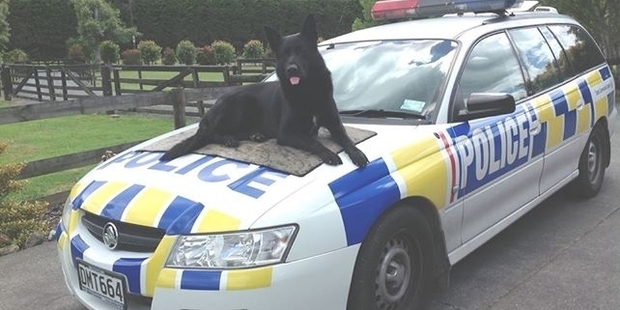 Gus is back padding the beat in Whangarei.
The german shepherd police dog has recovered from a life-threatening stab wound and is back on duty with his handler.
In early October, Gus and handler Pete Kinane were called to a job to track a man through dense bush in the early hours.
As the duo tracked in the darkness they came across the man, who then allegedly stabbed Gus in the lung with a knife and tried to stab the officer.
Mr Kinane and a fellow officer got Gus out of the bush as other officers arrested the man.
The dog was rushed to Mill Rd Vet Clinic in Whangarei, where Gus was stabilised before being flown by police helicopter to Veterinary Specialist Group in Auckland. A team was on standby and started treating Gus immediately.
Since surgery, 5-year-old Gus has mended better than expected.
Northland's head dog handler, Sergeant Phil Kahotea, said the canine had been tested before hitting the beat on Friday night and showed no hesitation: "To have Gus back working so quickly is marvellous."
It was about six weeks since the injury and Gus was 100 per cent. X-rays were done on the punctured lung and sent to the specialist vet group in Auckland, who gave the all-clear.
Gus was then put through his paces over obstacles, tracking runs and criminal work before going back on the job. He may also participate in Armed Offender Squad training soon.
A Whangarei man charged with stabbing Gus has been remanded to a psychiatric unit. Kelly Brindle, 37, is charged with aggravated assault with a knife, assaulting a person with a knife, injuring a police dog and unlawfully taking a vehicle. Judge Duncan Harvey remanded Brindle in custody to the Mason Clinic for assessment. He will appear in the Whangarei District Court on December 9.
For more articles from this region, go to Northern Advocate