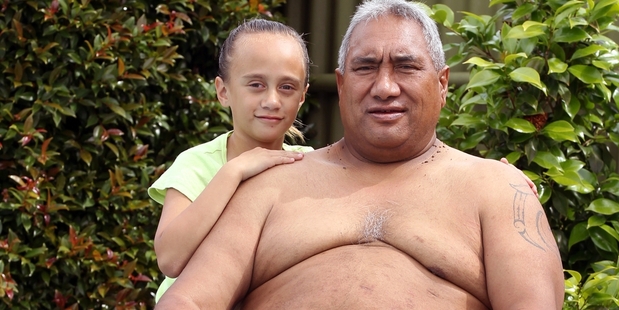 Since dropping a staggering 100kg in 15 months, Hastings man Richard Kupa is living life to the full - hunting, fishing, boxing and playing rugby with his sons for the first time in 20 years.
There was no miraculous operation or drug. This is a tale of blood, sweat and determination.
The reality was life or death for Mr Kupa, 52, who tipped the scales at 240kg, took 12 different pills for skyrocketing blood pressure and was fighting diabetes.
He also suffered debilitating back pain which left him "paralysed" for 18 months. A scan in Auckland's Mercy Hospital revealed three of the disks in his back had "dissolved".
"I went to the doctor - my weight was really high and my blood pressure was really high - it was 200, 190, 180 - he gave me lots of different meds to get it down and basically said: 'you are either going to have a stroke, a heart attack or both'.
"That's when I thought, 'jeez I need to do something about this'. I was at the takeaway shop and an old mate called me across the road saying he was looking to get a group of 'big boys' together."
Every member had the same goal: To shed some kilograms and get fit.
The first thing they addressed was diet, calling on a nutritionist to pass on good eating habits and show them how to make low fat meals.
Then came the hard part - exercise - every day with a passionate trainer, who pushed them to the limit with new and interesting workout plans. Together, the group overcame hurdles and encouraged each other along the way.
"We started up the Big Boy's Club, but as more women joined it became the Patu Club. It was good because we had these really inspiring young trainers - Levi Armstrong has this gift, he genuinely cares about us, he's not just a gym owner or trainer, he really feels for us."
Since dropping the weight he is down to four pills for blood pressure, has kicked diabetes, is more mobile and has more energy. "I think what I really noticed was being able to do more things - I went to rugby and I was able to run - for five minutes the first week, ten the next, then it was half an hour and finally I could play a full game."
While he removed bread and fizzy drinks from the menu early on, Mr Kupa still allows himself the odd treat, as long as it's in moderation. "I drink water, eat salads and introduced a lot more protein; diet is the hardest part, sacrificing and saying, 'no, I'm not going to eat that', or, 'I'm not going to drink that'.
"Now I have lost a bit more weight I can have a bit of chockie or pudding, but just a little bit."
Some of the best benefits have been simple things, walking up Te Mata Peak, participating on hunting and diving trips with his sons instead of being stuck in the car, or even just going shopping.
Along with everyday achievements he also stepped up to take his brother's place at the recent Battle For Life charity boxing match.
"He pulled a hamstring so I said I would do it - I lost a whole heap of weight training for that."
But the journey is not over yet, just yesterday he rode a bike from Napier to Westshore, swam Pandora Pond and signed up to compete in a triathalon.
"I want to get down to 120kg, 115kg, that's the dream."
For more articles from this region, go to Hawkes Bay Today