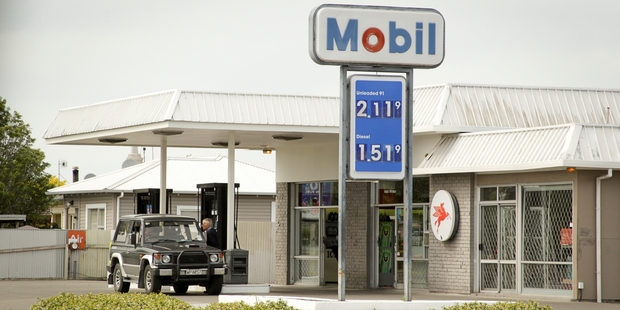 A second Hawke's Bay Mobil service station has been targeted by a knife-wielding robber in what is looking increasingly like copy-cat strikes.
A sole attendant working the night shift at the Mobil Windsor service station in Heretaunga St East was confronted by a hooded and bandanna-masked man about 9.40pm on Saturday and told to hand over money from the till.
The incident echoed the robbery of the Mobil Taradale Rd station in Napier last Thursday at 10.50am and was the third knife-point robbery incident Hawke's Bay police had been called to over a five-day period.
The Greenmeadows Video-Ezy shop was robbed about 10pm last Tuesday.
There appeared no links in terms of the offenders involved as each description was different, although the issue of a copy-cat crime had not been ruled out.
"That may be the case - you don't know what goes on in the minds of these sort of people," Detective Constable Hamish Urquhart said.
In Saturday night's incident the man walked in and said he wanted money.
After the male attendant walked around back behind the counter the man allegedly pulled out a knife and told him to fill up a bag he handed to him with money from the till.
The attendant complied and put an unknown amount of money into the bag, with the robber then making off on foot along Heretaunga St in the direction of the Madison and Princes St intersection.
The attendant, who was shaken but not injured during the robbery, quickly called police.
Mr Urquhart said the attendant had done what service station staff had been trained to do in such and event and complied.
The manager of Mobil Windsor declined to comment about the robbery yesterday except to confirm the attendant was "fine" although she was not sure when he would be returning to work.
"I can't comment about this," she said.
The offender was described as average height and solid build with light-coloured skin. He was wearing a black hooded sweatshirt with a bandanna covering his face and had black trousers and footwear.
He was carrying a green or khaki-coloured knapsack.
Police were working through CCTV footage yesterday and this morning and hoped to have an image of the robber available later today.
Meanwhile, police have released a description of a car they believe may have been involved in the robbery of the Taradale Rd Mobil station.
Detective John McGregor said police had spoken with a number of witnesses who had seen a white Ford Laser or Telstar stationwagon in the Edmundson St area prior to the robbery. The car had a dent on the driver's side panel behind the rear wheel.
Any information on the Mobil Windsor robbery in Hastings - phone Detective Constable Hamish Urquhart on 837 0500 or the confidential Crimestoppers line.
Information on the Video Ezy and Mobil Taradale Rd robberies - phone Detective John McGregor on 831 0700 or Crimestoppers.
For more articles from this region, go to Hawkes Bay Today