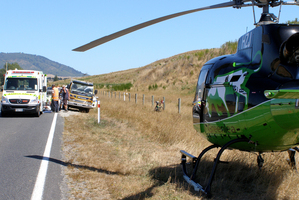 A dairy farmer has been found guilty of seriously assaulting a cyclist who was training for the Ironman.
A jury in the Rotorua District Court today took just over 90 minutes to find Joseph Arthur Frederick Roberts, 22, guilty of causing grievous bodily harm to Alasdair Slade.
The incident happened in February on Broadlands Rd after Mr Slade pulled the fingers at the accused and yelled at him to get in to his own lane.
That angered Roberts who the Crown said did a u-turn and proceeded to pull up in front of Mr Slade twice. Mr Slade cycled around him but on the third occasion Roberts allegedly got out of his vehicle and "pushed or shoulder barged" him off his bike.
After the decision Judge Phillip Cooper convicted Roberts and remanded him in custody until sentencing on December 17.
Roberts originally confessed to police after the assault but changed his story three months later to say while he did pull up in front of Mr Slade twice, it wasn't him who hit him on the third occassion.
He changed his story to say a "stranger" was the one who did it.
The defence didn't call evidence during the two-day trial but in closing arguments defence lawyer Ian Farquhar said it was his position the Crown had the wrong man.
Mr Farquhar said the first interview his client made where he admitted the assault was a lie.
He told the jury the key to the case was the evidence of a nearby road worker, Joseph Kelly, who said he saw a man get out of a second ute and raise his arm.
Mr Kelly said the driver of the silver ute did not get out of his vehicle. Mr Farquhar said Mr Kelly was an independent Crown witness who wasn't challenged therefore his evidence was the "key".
Crown prosecutor Andy Hill said the key element was the issue of identity and the defendant knew "intimate details"about what happened.
Roberts also fitted the description Mr Slade gave of the person who attacked him.
Mr Hill said first and foremost the jury could be confident Roberts was the attacker because he confessed to it.
"That in itself is extremely strong evidence."
Mr Hill said the theory of a mystery man was "preposterous".
"Mystery man doesn't come along until about three and a half months later."
Mr Hill said Mr Kelly admitted in his evidence that his view was partially obstructed and he didn't know there was a cyclist until he heard him crying in pain on the ground.
For more articles from this region, go to Rotorua Daily Post