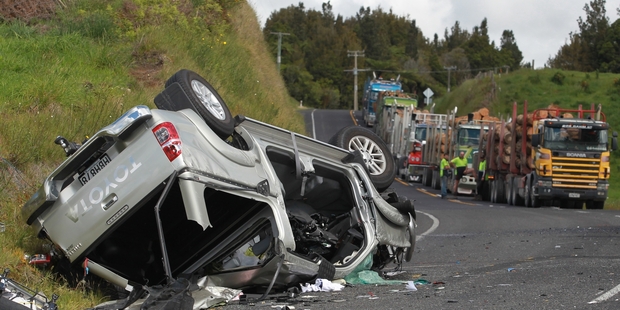 A logging truck driver thought he was going to die as he watched a ute fly through the air towards his windscreen.
Ian Graham was driving a load of logs to Tauranga from Rotorua when the Toyota Hilux crashed into his truck on Pyes Pa Rd just past Taumata Rd about 2.30pm yesterday.
The driver of the silver ute appeared to have taken the corner too fast, according to police, and clipped the side of a logging truck, which was heading in the opposite direction, taking out the back six sets of tyres. It then flew through the air and slammed head on into Mr Graham's truck that was directly behind the first one.
"He came through and he was in mid air when he hit me. That's how high it was," he told the Bay of Plenty Times, pointing to the cracked windscreen and the bent steel bar around the bottom of the windscreen.
"It came up and it was on its side that's the ute that slammed into me. I thought I was going to die. I thought he was going to come into the cab. That's how high he was."
A nurse who arrived at the scene straight after the crash temporarily bandaged up Mr Graham's bleeding knee and told him he would need to go to hospital to get the gash stitched up.
The truck, owned by Mr Graham, would be out of action for some time making business tough for him.
Firefighters had to cut the driver out of his upside down Toyota Hilux.
Tauranga Fire Brigade senior station officer Mark Keller said it took about 20 minutes to cut the man from his mangled vehicle.
Two fire trucks attended the crash.
St John Ambulance Tauranga territory manager Ross Clarke said the driver of the ute, aged 52, was taken to Tauranga Hospital.
Last night the Bay of Plenty man was in intensive care in a serious condition with arm injuries and a badly broken leg.
Sergeant Nigel Ramsden said it appeared the driver, heading towards Rotorua, had taken the corner too fast causing him to crash into the first truck and bounce into the path of the second.
The ute driver was lucky he was not more seriously injured, he said.
The road was closed for about four hours and traffic was diverted around Taumata Rd.
A local farmer, who spoke on condition he was not named, said he was sitting on his tractor when he heard a bang.
"The car hit the trailer of the first truck and went head first into the second truck," he said.
"He was going too fast. It's typical for this corner. He was over the centre line down here. He knew he was hitting the corner too fast." The two damaged trucks had to be towed away and the four trailers of logs loaded on to other trucks.
For more articles from this region, go to Bay of Plenty Times