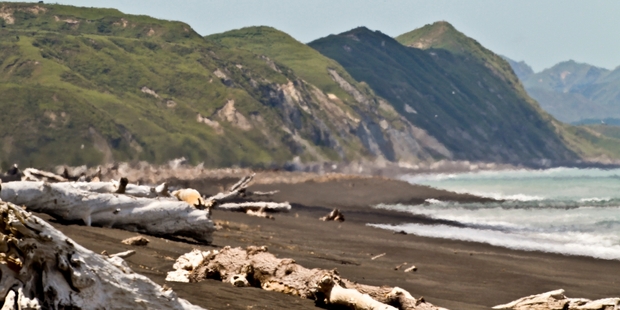 The beach where a farmer and his 7-year-old nephew drowned trying to rescue a young relative is unsafe and needs warning signs, locals say.
The small beachside settlement of Iwitea, east of Wairoa, was in mourning yesterday as the family of Sage Wi Smith, 22, and Kustom Michael Soljah Blandford, 7, were coming to terms with the tragic double drowning.
The two died on Monday after they entered the water to try and rescue a relative who fell into the sea, off Iwitea Rd, near Wairoa. The girl was able to make her way back to shore.
Wairoa police sergeant Aubrey Ormond said the police would continue to work closely with the family as both deaths had been referred to the coroner.
"It's traumatic for them. They're just the same as yesterday really, still very upset."
He said the bodies were returned to family yesterday afternoon.
"They're very upset, but I think it's a little bit easier for them now they [Mr Smith and Kustom] are back with the family.
"Over the years there have been a couple of close calls. People need to be very aware of that sea. They are not swimming beaches and people need to be very aware of children."
He said it would take only three or four seconds for a child to be swept under.
"The beaches are great for fishing or surfing but not swimming. It's very steep, the waves come up and drag back, they'll sweep you off your feet."
Many people spoken to in Wairoa yesterday were aware of the dangers of the local beaches. Arend Smith said there should be signs as children often didn't know of the dangers of the beaches.
Kate Hill said they should "definitely" be better signed and treated with respect.
Wairoa Mayor Craig Little said most locals would know that the beaches weren't safe for swimming. "It's such a big long coastline, that's one problem, it's a huge stretch. It would be impossible to put signs up and down the whole thing. As sad as the tragedy is I don't think signs would have stopped it."
He said with all the campaigns around water safety people are aware of the dangers.
"It's just a tragic accident, it's really horrible."
An Iwitea resident who assisted in recovering the bodies said yesterday the beach did drop off steeply but conditions were fine on Monday afternoon when Mr Smith and Kustom went for a walk with Mr Smith's two nieces.
He said the beach was normally "alright" but people did need to be careful. "I was working on the farm down there and two of the elders came to get me," he said. "I went down to the beach and saw him, I pulled him [Mr Smith] out of the waves."
For more articles from this region, go to Hawkes Bay Today