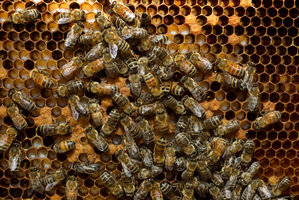 A man who endured nearly 100 bee stings in Hawke's Bay has been discharged from hospital.
The 43-year-old had stopped to check on the bees he had been transporting in Putorino on Friday, only to have the queen bee fly down the back of his shirt and the rest of them fly in after it.
An ambulance taking a patient from Wairoa came across the scene, as the man thrashed about with bees swarming all over him.
St John district operations manager Stephen Smith said: "The bees were swarming around him and the queen bee had got into his suit.
"He was telling the St John staff to stay away and he told other motorists who stopped to help to stay away as well."
A passing logging truck stopped and the man jumped in and was driven about 300m down the road away from the bees and where paramedics were waiting.
"He suffered a huge build up of venom and was quite shocked as well.
"The other bees just swarmed around him and the queen.
"Luckily he isn't allergic. If you are, your throat can close up and your tongue can swell."
The man was taken to Hawke's Bay Hospital and was discharged yesterday, Newstalk ZB reported. APNZ
For more articles from this region, go to Hawkes Bay Today