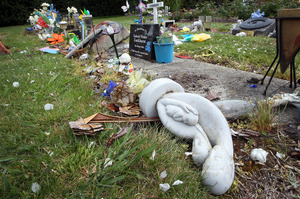 Angry families devastated at the vandalism of the children's burial area in the Sala St Cemetery are hopeful the perpetrator will be found.
The vandalism was discovered on Sunday. On Monday and yesterday the area was cleaned up and weeded when up to 40 people showed up after reading about the damage in the Rotorua Daily Post.
Sands Rotorua spokeswoman Jennifer Anastasi said the vandalism had incensed a lot of people and Sands' national office was also involved.
"Someone knows something. I would hope it would at least make them consider their actions and the impact it has on families," she said.
"There were a lot of angry families down there. I know there has been a lot of Facebook posting going on.
"They want to spread the word as much as they can to try to get someone to fess up."
Mrs Anastasi had already arranged with the crematorium manager to clean up the site on Monday and she was surprised at how many others showed up.
"It was nice," she said.
"All the broken glass was cleared, people weeded and put things back as best they could. Yesterday lots of people came down. There were some families down there but also friends of families who are no longer in the area who came down to check on their sites.
"We want families to know that all of the sites are being cared for by the community," she said.
"If they need someone to talk to they can contact Sands Rotorua through our website."
Sands is a pregnancy, baby and infant loss charity.
For more articles from this region, go to Rotorua Daily Post