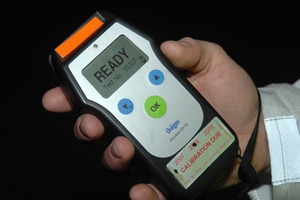 Northlanders are taking potential killers off the road by dobbing drunk drivers in to police.
Not only are they ringing *555 and following the offenders until police arrive but some are taking keys from intoxicated drivers.
Northland has one of the highest drink-driving rates in the country and brave actions by members of the public are being praised by police who welcome the lower tolerance of drunk drivers.
In one incident, father of two Billy Twaddell, 28, couldn't believe what he was seeing as he drove on the Awanui Straight, north of Kaitaia, as logging trucks had to almost stop and pull over to avoid a head-on crash with a car on the wrong side of the road, last Thursday.
"I followed at a safe distance behind and was beeping and flashing my lights at the driver to pull over and also to warn other drivers," Mr Twaddell said. "It was ... like the driver had a death wish."
As they neared Awanui, Mr Twaddell had managed to get in front and force the vehicle to a stop.
"I got out and just grabbed the key out of the ignition and that's when I saw a boy in the car."
Mr Twaddell held on to the keys until police arrived.
The driver, a 35-year-old Ukraine woman, was arrested after a struggle during which she twice allegedly tried to bite a constable. She allegedly recorded 1086 micrograms of alcohol per litre of breath - more than two times over the legal limit of 400mcg. Her 10-year-old son, a passenger in the car, was placed in the care of Child Youth and Family. Senior Sergeant Geoff Ryan commended Mr Twaddell's action and said he possibly stopped a fatal crash. "These are the kind of behaviours that kill people on our roads."
In Whangarei, a 38-year-old man was taken to the central police station by his wife after he had driven home with their two young children in the car, last Wednesday about 9pm. He was breath tested and allegedly recorded 752mcg.
And a stock truck driver reported seeing a southbound driver overtaking erratically on State Highway 1, near Waipu at 4.50pm, last Wednesday. He had followed the vehicle into Waipu where it stopped outside the RSA.
Sergeant Chris Goodall said when he got to the car the 52-year-old driver was slumped over the steering wheel and had a half full wine bottle between his legs. A breath test revealed 1201mcg but the Whangarei driver elected to have a blood test done. "The truck driver really did the community a favour. This was a fatal crash waiting to happen," Mr Goodall said.
Acting road policing Senior Sergeant Barbara Goodwin was surprised at the number of drunk drivers continuing to drive on the highways. "It's very, very disappointing we are still getting these extremely high readings," she said. "But these are wonderful pro-active examples and shows people aren't tolerating drink-driving. The message to stop drink-drivers is getting through."
She said if motorists noticed erratic driving, they should ring *555 and, if safe, to continue following the driver until police were on the scene.
For more articles from this region, go to Northern Advocate