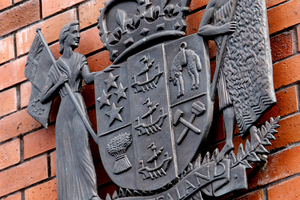 A Eastern Bay of Plenty toddler will never grow to be a normal child or adult after his father violently injured him as a baby, a court has heard.
Robert Haami Boynton, 41, was sentenced in the High Court at Rotorua today for causing grievous bodily harm to his then 4-month-old son with reckless disregard for his safety.
He was found guilty by a jury during a retrial this year.
The father of nine children was handed a prison sentence of three years and six months.
Reading the summary of facts, Judge Kit Toogood said Boynton had "violently separated" the boy's mother from the baby when he threw her out of their home. She was still breastfeeding the child at the time.
On April 28, 2011 at a house in Matahi Valley, near Te Urewera, Boynton had entered a bedroom where the baby was crying and was alone with him for about 30 seconds.
He emerged holding the infant saying he had stopped breathing. The baby's lips were blue and his eyes were rolled back into his head.
Boynton had called an ambulance but did not say how he came to be in that condition or that he had stopped breathing.
"The ambulance assessed the child and considered no further treatment was necessary, he misled the ambulance officers and they went away thinking it was an over-anxious parent dealing with a choking fit," Justice Toogood said.
However, during the night and following morning the baby had ongoing seizures and the ambulance was again called where he was first taken to Whakatane Hospital before being transferred to Starship Hospital in Auckland.
The child suffered serious brain injury with bleeding around the brain and behind his eyes. The hospital also found evidence of a previous inflicted injury.
"Based on expert evidence the injuries were likely caused through shaking or other violent act like throwing him on a bed."
The child, who has permanent name suppression, is now 3 but is still suffering from the injuries.
"He struggles to move his left side of his body and his left foot. He is behind his peers in learning and the future is uncertain whether he requires further surgery. He could never be a normal child or a normal adult for that matter," Justice Toogood said.
"As a father of nine children you are an experienced caregiver ... he was in every sense of the word vulnerable, defenceless and dependent on you."
Some of Boynton's children were in the court gallery when he was sentenced. They yelled out, 'bye Dad, love you Dad,' as he was led to the cells.
His prison term is to be served on top of the 15 month prison sentence he is currently serving for assault on the boy's mother.
For more articles from this region, go to Rotorua Daily Post