The debate over "legal highs" has taken a nasty turn with a store owner receiving threats over her decision to sell the products.
Stardust Creations owner Donna Scarrow has had three protests outside her Victoria Ave shop with people waving placards at her door and complaining about the sale of the psycho-active drugs recently made legal by the Government, and outside her door.
Mrs Scarrow told the Chronicle that in recent weeks one Wanganui district councillor had come to the shop and threatened her, and that another had attempted to place a screenprinted vinyl sign on her shop window.
Whanganui Police said they had been involved with an incident at Stardust where a sign was applied to the window but, as there had been no damage, no charges were placed.
Councillor Allan Anderson acknowledged that he had gone into the store but said he had not spoken to the owner at all.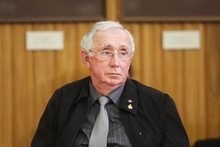 "I was having a respectful conversation with a gentleman in the store on the finer points of 'legal highs' when the store owner approached me and asked me to leave the premises," Mr Anderson said.
He visited the store to "have a look" but said he was ordered from the premises by Mrs Scarrow who, he said, threatened to have him trespassed.
"I wouldn't know a 'legal high' if I fell over it and I only went into the shop to have a look."
Mr Anderson sees nothing wrong with the protests because "there are lots of legal things - but that doesn't mean to say we agree with their sale".
He said clinicians were telling the public that these drugs were "more dangerous than P".
"There are hundreds of other retailers in the city making a living by not selling products that can damage your health.
"We're entitled to say that we don't want this stuff sold here. There comes a time when people say they don't care if the goods are legal, we don't want it sold here," Mr Anderson said.
His council colleague, Jack Bullock, acknowledged he had put the poster on the shop window during last week's protest but removed it when the protest ended.
"Nothing else like that has taken place since," Mr Bullock said.
"A few young people have come forward an informed us that the shop has sold 'legal highs' to them and they are 16."
The substances are legally available for sale but only to people 18 and over and Mrs Scarrow has previously been adamant that she sells only to those of age.
Senior Sergeant Lance Kennedy said they had had no reports of sales to under-age people at the store "so there are no charges at this point and nothing pending".
Mr Bullock said efforts to stop the sales would continue at a local level while organisers of the protests, Ken Mair and Philippa Baker-Hogan, were working at a local and national level.
"Protest is only part of the mechanism in making change," he said.
For more articles from this region, go to Wanganui Chronicle