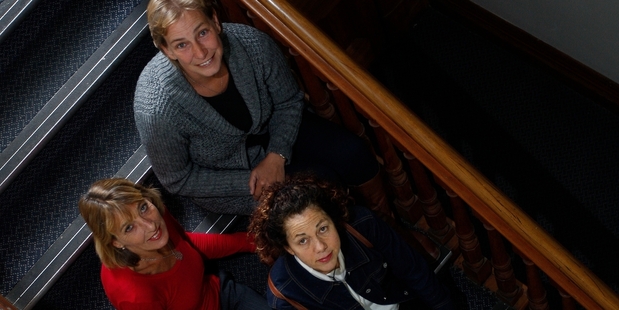 Donna Rogers woke up one morning with numbness and tingling on one side from her head to her toes and thought she was having a heart attack.
An MRI scan later revealed what Ms Rogers thought looked like "marshmallow" syndrome - white puffy clusters around the brain.
However, it was multiple sclerosis (MS) - a disease of the central nervous system (CNS) of unknown causes, no cure and a huge variety of symptoms.
September is the nationwide awareness month for the disease - something which Mrs Rogers says is still relatively unknown.
"I had no idea about MS until I actually had it. It's just not well known out there. People say to me, 'You don't look like you've got MS'."
For her the symptoms have continued along the same lines as those experienced that morning in May 2007.
"If you can imagine having a really hot spa and then jumping into a really cold pool.
It's like that - pins and needles in my head and down my body - and it normally hits me quite hard."
The diagnosis and ensuing symptoms meant she had to resign from her position as a private investigator.
"I'm unemployable - MS is too unpredictable and I think that's one of the hardest things - waking up in the morning and not knowing how you are going to feel.
"It depends on what part of the CNS that MS is attacking - you just don't know," Mrs Rogers said.
Mrs Rogers has the relapsing remitting form of MS, which means the disease relapses at intervals. It also means she's been able to take on the unpaid position as Northland Multiple Sclerosis Society president.
She says there are different levels of MS, such as relapsing remitting, progressive degenerative (the worst form) and primary progressive, the type Northland Multiple Sclerosis Society secretary Wendy Quin has.
Mrs Quin was diagnosed in November 2011 after having a few falls. "I was shocked when I got the diagnosis because it came out of the blue," Mrs Quin says.
"I've got my fingers crossed for a slow progression. My main symptom is weakness in one leg - at 11am in the morning I can get weakness and look drunk," she said.
"Future? I don't know. I make jokes about having a wheelchair with a hooter to tell people to get out the way. But then I don't actually envisage myself in a wheelchair."
Her favourite way to sum up MS is with the Graeme Sinclair quote: "Multiple sclerosis (MS) affects different people in different ways, but regardless of the impact, it is a b*****d of a thing."
For more information, or to donate, phone the MS Society Northland office on 438-3945.
For more articles from this region, go to Northern Advocate