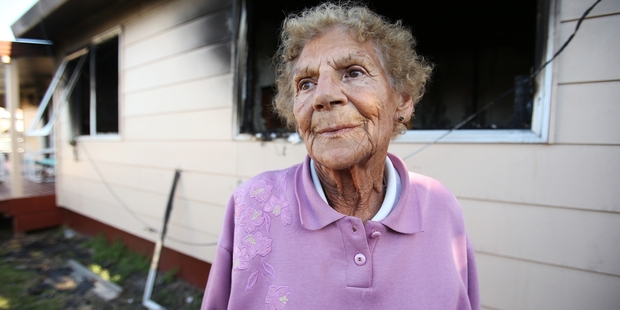 An 89-year-old woman walked into her neighbour's burning home in Tauranga to try to help him put out the blaze.
Kulim Ave resident Edna Harrison went next door for a cup of tea about 10am yesterday after the America's Cup racing was postponed only to find her 62-year-old neighbour in the hallway, which was filling with smoke.
"I went in but I didn't know the house was on fire," the 89-year-old said. "He wasn't there so I went up the passage. That's when he said to me the cabinet was on fire."
Mrs Harrison started to open some of the doors and windows to let the smoke out before a big, black billow of smoke filled the hallway.
"I said, 'Come on, we're out'."
She began trying to untangle the garden hose while her neighbour dragged it toward the window of the bedroom the fire had started in.
The pair soon gave up and decided to move the boat and motorbike that were parked in front of the house so the fire brigade could get in.
"It was a shock," Mrs Harrison said. "That was a raging fire."
Her neighbour had only just finished renovating and repainting the house, she said.
Another resident, Justine McLachlan, was in the shower as the action was unfolding and only realised what was happening when her young daughter opened the door to find her neighbour asking for help.
"All I saw was a very sooty man at my door. I just phoned the fire brigade and by that stage the windows were blowing out. It was very fast. When I came out they had the garden hose out," she said.
Tauranga Fire Brigade senior station officer Nigel Liddicoat said the man discovered the fire in the master bedroom and tried to put it out with a bucket of water. He was taken to Tauranga Hospital to be treated for smoke inhalation.
Three bedrooms, the bathroom and the laundry were destroyed by the fire and the rest of the house was damaged badly by smoke.
A few springs stuck up from the floor in the master bedroom where the bed had been, coat hangers sat on top of a large pile of black ash at the bottom of the wardrobe, doors and walls were burnt through, windows and mirrors were shattered and the toilet bowl was broken badly.
Fire risk management officer Bill Rackham had not yet determined the cause of the fire yesterday and was waiting to speak to the occupant.
Mr Rackham said he believed doors and windows being opened had sped up the spread of the fire as it headed toward the oxygen source.
"Close the doors. Close what you can and get out as soon as you can. Get out and stay out."
It did not appear there were smoke alarms in the house, he said.
For more articles from this region, go to Bay of Plenty Times