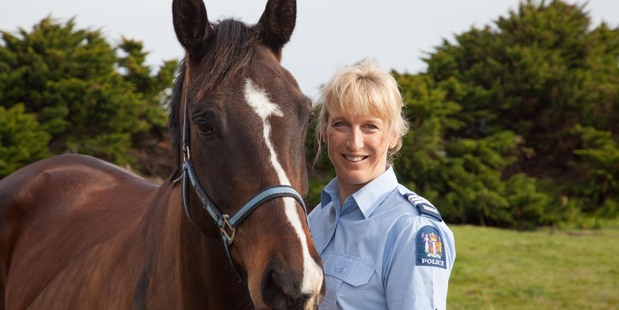 Police officers are trained to save lives and help victims - and in the case of one quick-thinking Whanganui police officer that includes those with four legs.
Police prosecutor Sergeant Rachel Willemsen was in her office working through some files last Wednesday when she got an unlikely call for help - there was a badly injured horse on the roadside in urgent need of medical attention.
Ms Willemsen said a friend had been following a vehicle towing a horse float along State Highway 3 into the city when she saw the horse inside become panicked and turn itself around in the float, straddling the centre partition, ripping open veins and causing life-threatening injuries.
With no time to waste she called Ms Willemsen, who with two colleagues sprang into action.
"I raced up the road to help, and sent a couple of the guys to help with traffic control.
Luckily other motorists had managed to stop the driver. As I arrived at the front door of the float, I could see blood everywhere. The horse, a seven-year-old gelding called Hunter, was in a terrible state, and blood was pumping out freely.
"I didn't want to watch him bleed out in front of me. I hopped into the float and applied a pressure bandage to the wound until the vet arrived and the blood eventually stopped flowing. The vet managed to sedate him, and we were thankfully able to get the horse into a nearby paddock, until a specialist horse vet arrived and was able to stitch up the damaged veins and arteries."
Ms Willemsen said she ended up wearing a lot of the blood but the best thing was that the horse - named Hunter - got through okay and was now on the mend.
Hunter's owner Anna Cuming said Ms Willemsen dealt with the situation calmly and with care.
"I was impressed with how Rachel dealt with the whole situation and I'm really thankful that she was there. She was incredibly helpful and level-headed," Ms Cuming said.
Wanganui resident Sue Cruickshank, who was walking her dog at the time of the incident, witnessed the officer's life-saving actions.
"Rachel acted very confidently and took charge of the situation immediately," she said.
For more articles from this region, go to Wanganui Chronicle