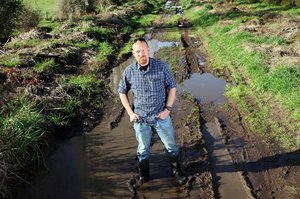 A war has broken out between a councillor and his neighbours over a tiny paper road.
Arawa Rd residents claim councillor and resident farmer in Pongakawa Kevin Marsh has been using heavy machinery and tractors along the extension of Arawa Rd, a paper road, creating pot holes and making it impassible except by 4WD vehicles.
But Mr Marsh has hit back by claiming some residents have been interfering with his gates and letting his stock out - and that he has recorded them doing so.
The row between Mr Marsh and his neighbours has resulted in up to 10 complaints to the district council since June and frustrated residents approaching the Bay of Plenty Times.
Shannon Bramwell, a mother with young children, said the dirt road was the only safe place away from the traffic on nearby State Highway 2 on which to exercise, walk the dog and push a pram.
"That track used to be solid and grassy, since he bought the farm on the other side of the road he (Mr Marsh) has been driving heavy machinery down there," she told the Bay of Plenty Times.
After heavy rain, the new pot holes in the track filled with water, which Miss Bramwell said were up to 450mm deep.
"All I want is for someone to fix it. I would like him to be held accountable. I can't see why he wants to be a councillor and help the community when he treats his own street like this."
Her mother, Karen Bramwell, said losing the use of the track had affected her lifestyle and she could no longer take her dog for walks down there.
Linda Smith said the state of the road extension was "disgusting" and she could no longer use it daily.
Jason Fagan said Mr Marsh's stock had caused most of the damage by crossing the road up to five times a week.
"It's a public road, it's not his road. The biggest problem is the ginormous holes that have been created by the heavy machinery coming down the track. They weren't there before.
"It doesn't sound like a big deal, but for the people on our street it is."
Western Bay of Plenty District Council group manager of engineering services Gary Allis said Mr Marsh had applied for a licence to occupy the road so he could drive his stock across it.
Mr Allis said the council had received up to 10 complaints from residents, including several in the past few weeks.
He said the road was in poor condition which was thought to have been caused by drainage cleaning operations.
"There does not appear to be any incorrect usage of the road ... the adjacent farmer, Kevin Marsh, has offered to tidy the road up with his excavator when there are drier conditions.
"Until that occurs the land will remain in its current condition."
Mr Marsh and his wife Andrea said they regretted any inconvenience to their neighbours from damage to the road caused by drainage work and their recent land development, made worse by heavy rain at the time.
But he claimed some residents were interfering with his gates and letting stock go and that he had photographic evidence. He refused to hand over the footage to the Bay of Plenty Times.
"We are not prepared to name them as they are our neighbours, and we would very much like this issue to be resolved harmoniously.
"However, if this unsafe action persists, we may have to take legal action but we sincerely hope we don't have to."
Mr Marsh said he would undertake repair work on the road as soon as possible.
For more articles from this region, go to Bay of Plenty Times