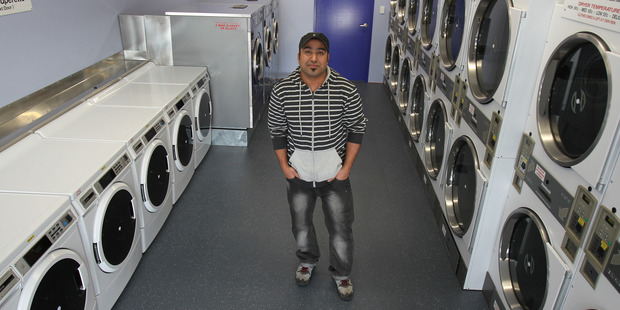 A dairy owner robbed at gunpoint has forgiven the offender and is prepared to offer him work in his shop.
Speaking from his store last night Lenz Superette owner Farukh Khan, 33, told the Bay of Plenty Times he learned Brett Robert Heginbotham had been a regular customer at the dairy after the pair were reunited at a restorative justice meeting.
"Brett used to come in almost every second day to buy something. Once I knew who he was, I felt pretty comfortable about sitting down with him, and we did a lot of talking. He was pretty upset and crying, and apologised to me lots of times, and I could see his apology was really genuine. His mother was also crying. I could see he came from a very good family.
"Brett asked me a couple of times what he could do for me to make amends, and I said okay once I get our laundromat next door up and running he could come in and do some cleaning and sweeping for me, and he agreed he would do that," he said. Mr Khan said he hoped Heginbotham, who stole $5000 worth of synthetic cannabis and cigarettes in the robbery, would not be sent to prison.
"If Brett went to prison he's only likely to get very depressed or probably get involved with the wrong crowd, and pick up some bad habits.
"That's no good for him or his family, nor is it good for for the community. I'm convinced he's learned his lesson, and he's not going to repeat his crime. He should be given a chance to redeem himself and move on with his life."
Mr Khan said Heginbotham, who was a first-time offender, had already paid a huge price for his big mistake including losing his job. He chose not to react negatively to the robbery because it would only eat away at him and could have influenced how he related to his customers.
"In this world there are so many bad things that happen everyday, and I believe it's important that we try to do something good," he said.
Heginbotham had not yet done any work for the shop owner but he was was only too happy to have him work alongside him and was even prepared to help him find a job.
Heginbotham, 28, was due to be sentenced in Tauranga District Court yesterday after earlier pleading guilty to a charge of aggravated robbery.
His lawyer, Rebekah Webby, successfully sought an adjournment to October 3 to allow more time for her client to find an address where he could serve a sentence of home detention.
A balaclava-clad Heginbotham faced Mr Khan at his store just before 5pm on May 17 while armed with an imitation pistol. He was caught about 30 minutes later by armed police at Cobblestone Court Motel.
All the stolen items and the pistol were recovered.
Judge Thomas Ingram agreed to the sentencing adjournment in light of favourable restorative justice meeting between Heginbotham and Mr Khan. The judge said Mr Khan had forgiven Heginbotham and did not want to see him go to jail, because he believed "everyone deserves a second chance". Judge Ingram called for a home detention report but made no promises about the sentencing outcome.
Heginbotham was not available for comment when this edition went to print.
For more articles from this region, go to Bay of Plenty Times