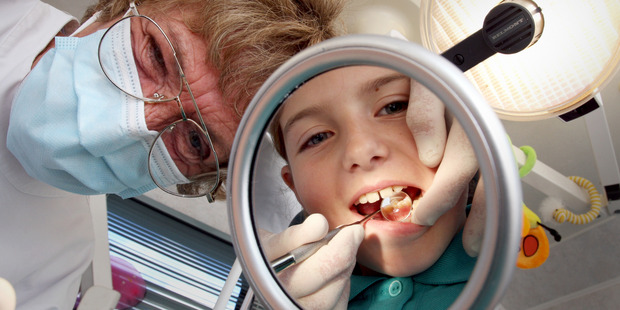 Most parents understand that problems such as an under-bite, over-bite, crooked or crowded teeth may need to be treated but often adopt a "wait to see" attitude in the belief their child can't be treated until they are in their teens.
But Dr Simon Leith and Dr Andrew McNaughton from the Kerikeri Dental Centre strongly recommend early assessment. They say that nowadays, depending on the problem, treatment can start from as early as age seven and add that early treatment may prevent more serious problems developing.
Dr Leith says there is a common misconception that crowded, crooked teeth and narrow jaws are caused by genetics - an inheritance passed down through the parents - and is something that can't be changed.
"Sometimes that's true," he says "but more often it's behavioural and environmental factors that affect how our adult teeth end up looking."
Factors that can contribute to orthodontic problems include thumb and finger sucking, mouth breathing, sleeping with the mouth open and incorrect swallowing.
Other associated health problems can include persistent ear infections, continual bed wetting, poor quality sleep, snoring and enlarged tonsils or adenoids - hence the recommendation to assess the situation early.
"From the age of seven we can address these behavioural habits and work with the growing jaw to create a beautiful smile, healthy airway and efficient jaw function," he says.
Moreover, starting treatment early often results in fewer teeth extractions and allows his team to focus on ideal facial growth and jaw development. The practice offers a range orthodontic techniques including both removable and fixed orthodontic appliances. To help decide the most appropriate course of action, Kerikeri Dental Centre uses a state-of-the-art 3D scanner that aids the dentists in predicting how the jaw and the teeth will grow.
During the first consultation the dentists will assess the child's functional, orthopaedic and orthodontic problems. The issues and recommendations are then discussed with the parents and the most appropriate treatment plan for the child is established.
Dr McNaughton emphasises that there is no one-size fits all solution. "Different patients have differing requirements and we can provide the most appropriate treatment plan at the most appropriate time."
Dr Simon Leith and Dr Andrew McNaughton are available at the Kerikeri Dental Centre on (09) 407 8338.