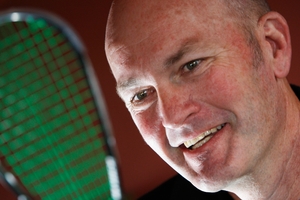 A total of 60 entrants couldn't upset defending Northland Masters men's and women's champions Bruce Smith and Fiona Moselen, both holding on to their titles.
Smith and Moselen, both of the Kamo club, faced new opponents in the finals of the Stirling Sports Northland Masters, held in Kamo - Whangarei players Monty Kirkman and Sue Lawlor.
The 60 entrants in the tournament earlier this month contested the Northland Masters (over 35) and Grand Masters (over 60) titles, with Whitianga's Ian Hogg claiming the men's Grand Masters title.
Most Northland clubs were represented, as well as Auckland's Weymouth Club and the Bream Bay Club, the latter not often represented in local tournaments.
Bream Bay's Doug Mills ended up pushing Hogg to five sets in the Grand Masters final, the fifth game going to 15-13.
Ian Duffield, also from Bream Bay, placed third in the same division. The Ladies' Grand Masters division was won by Whangarei's Dianne Foster, followed by Patti Schreurs and Heeni Black.
The tournament also served as an opportunity for the Kamo Squash Club to celebrate 40 years of squash in Whangarei's northernmost suburb.
A special cake was prepared for the occasion.
Two of the club's foundation members - Jenny Finlayson and Fay Colthurst - were given the honour of cutting the cake at the tournament's social outing held later in the evening.