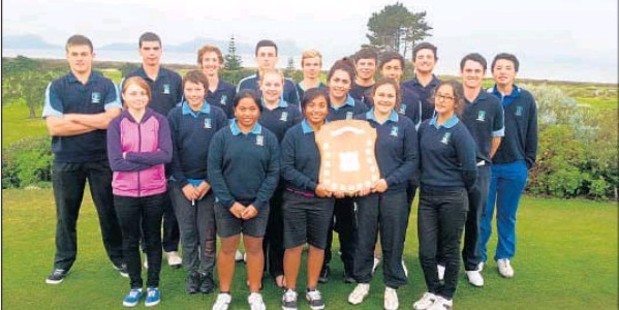 The wet and windy weather did little to deter the Northland junior golf team who swept aside North Harbour in the 11th annual junior development match between the two sides at Waipu on Sunday.
Understandably, Northland Golf Development Manager Michael Macdonald was impressed by the performance of the young Northland side.
"It's never easy playing in rough conditions like the players experienced. (But) we talked beforehand about preparing well, staying patient and really focusing on one shot at a time.
"The attitude and commitment from start to finish was fantastic."
The format saw teams of eight girls and 10 boys square off against their opposite number in matchplay. The girls used their handicap, the boys their gross scores. One point was awarded for each hole won, half a point for a halved hole.
The girls' competition was incredibly close, eventually finishing locked up at 72-all thanks to North Harbour number one Krytal Hu (Gulf Harbour) producing what proved to be the all-important birdie at the final hole, in the final match, to tie things up.
Best performers for Northland were sisters Soktaera and Soktaerodh Sean (Northland) both with 12-6 wins and Taimana Ngakuru (Northland) with a 10-8 victory.
On the boys' side of the draw it was one-way traffic with the Northland team winning nine out of the ten matches.
Christian Nitsche (Whangarei) and debutant Jamie Thomas (Wellsford) were the biggest winners both with 13.5-4.5 wins, Taylor Gill (Bay of Islands Kerikeri) and Ben Kennedy (Houhora) had the next best margins with 12-6 wins.
The combined overall result: Northland 190, North Harbour 134
The win was Northland's first at the event since 2010 and will give its players a confidence boost as they begin the countdown to the week-long National Junior Interprovincial events at Cambridge (Boys) and Rotorua (Girls) in early October.
Results:
(Northland players listed first)
Girls:
1. Jodi Macalister 8.5 v Krystal Hu 9.5
2. Soktaera Sean 12 v Anushka Jephson 6
3. Soktaerodh Sean 12 v Shani White 6
4. Belinda May 8 v Katie Pryce-Jones 10
5. Taimana Ngakuru 10 v Bridget Connolly 8
6. Taylor Wyatt-Logan 9 v Stacey Choi 9
7. Shianne Hartwell 5.5 v Anna Reinen 12.5
8. Danielle Ngakuru 7 v Eujin Kang 11
Boys:
1. Braden Keown 18 v Kevin Koong 0 (Defaulted Match)
2. Julian Fowler 11 v Michael Li 7
3. Taylor Gill 12 v Brad O'Brien 6
4. Christian Nitsche 13.5 v Josh Allen 4.5
5. Daniel Millett 10.5 v Jack Lee 7.5
6. Ben Kennedy 12 v Leo Hong 6
7. Ben Bowmar 10 v Sam Yoshifuji 8
8. Steven Lang 9.5 v Dexin Kong 8.5
9. Jamie Thomas 13.5 v Peter Witton 4.5
10. Chris Shepherd 8 v Mitchell Brennan 10.