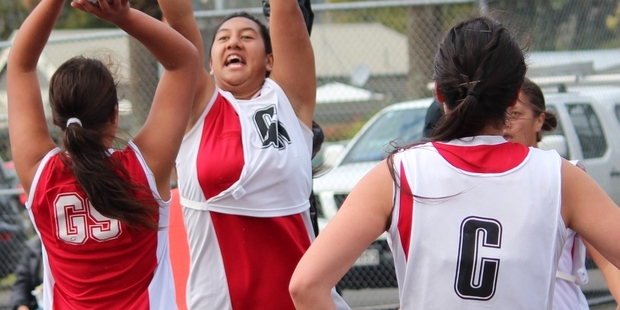 Strong winds blowing across Kensington Park led to mostly low scoring premier netball reserve matches.
Manawanui Red will be pleased with their 27-26 win over the younger Manawanui Collegiate Red side, after losing to the collegiate team in the preliminary round.
By half-time Manawanui Red were ahead by three goals only to have the collegiate team pull back to a goal behind at the end of the third quarter.
Manawanui Red's Shannon Te Ao (centre and wing defence) showed consistent form and Janice Brown (goal defence and goal keep) had a strong game putting pressure on the shooters. Shooters Kyla Williams and her replacement Tegan Musgrove, along with Raina Smith, worked hard against the strong defence. Manawanui Collegiate Red's defensive combination of Chelsea Grace, Shekania Cherrington and Kaea Robinson all showed impressive skills.
Wahine Toa 1 had a good win over Beds R Us Marist 46-21 in a game played in good humour and spirit.
Wahine Toa clearly dominated the first three quarters but Marist did have a good final quarter to only lose this by two goals. But it was all a little too late.
For Wahine Toa, Te Ewinga Wharewaka at wing defence stuck to her opposition and got some timely intercept ball. The combination of Rita and Renee Himiona at goal keep and goal defence made it hard for Marist to feed their shooters. Michelle Allen had a confident game at centre and was ably assisted by Tilitha Everitt.
Barbara Te Whare and Maria Dick were effective in the shooting circle.
For Marist, Jackie Marvin worked hard against the experienced Wahine Toa shooters and picked up good rebounds and tips.
Goal shoot Liza Taurua showed flashes of brilliance and paired well with Tania Green and Elaine Ross.
Craig's Firestone Marist had a 31-17 win against KHS 1, built on the back of a big third quarter which saw them pull ahead by 13.
Marist's Erin Gunson at goal defence was outstanding and well supported by goal keep Lucinda McBeth. Midcourt duties were shared by Harmony Kingi and Kate Atchison, and Liese McGill and Tracey Bradley - they all kept the ball flowing through midcourt.
The windy conditions made it tough for shooters. For KHS 1, Emily Griffen had another good game and combined well with Irihaapeti Te Whata Ashby at goal keep. Hayley Salmon at goal attack and Chalique Poutai at goal shoot moved well in the circle despite constant pressure.